It's the biggest prize we've given away on 96FM yet.
The Eagles Audi e-tron, valued at $168,000.
Audi Centre Perth, the West Coast Eagles, 9News and 96FM want to give you the keys to a brand new Audi e-tron Sportback 50 quattro.
The Audi e-tron is the latest in precision German plug-in electric vehicle technology, so it's whisper-quiet, with zero emissions, and all the indulgence you'd expect from Audi.
Including a 6 year Chargefox Public Charging Subscription, 6 years of Audi Scheduled Servicing and 6 years Audi Roadside Assistance. Terms, Conditions and Exclusions apply.
Plus, in the boot, there's a whole stack of special prizes from the West Coast Eagles.
2021 Signed Team Guernsey

Your own parking pass to Optus Stadium for every Eagles home game in 2021

2x tickets to the 2021 West Coast Eagles Derby Lunch

4x 2021 Supporter Cap

4x 2021 Supporter Scarf

4x 2021 Supporter Polo

An Eagles Dressing Gown

and your own copy of the NEW Eagles Monopoly board game
To win it all, just call 96FM on 13 10 65 when we tell you, and enter. Plus, watch 9News nightly at 6pm for the codeword, to give you nine entries in the draw.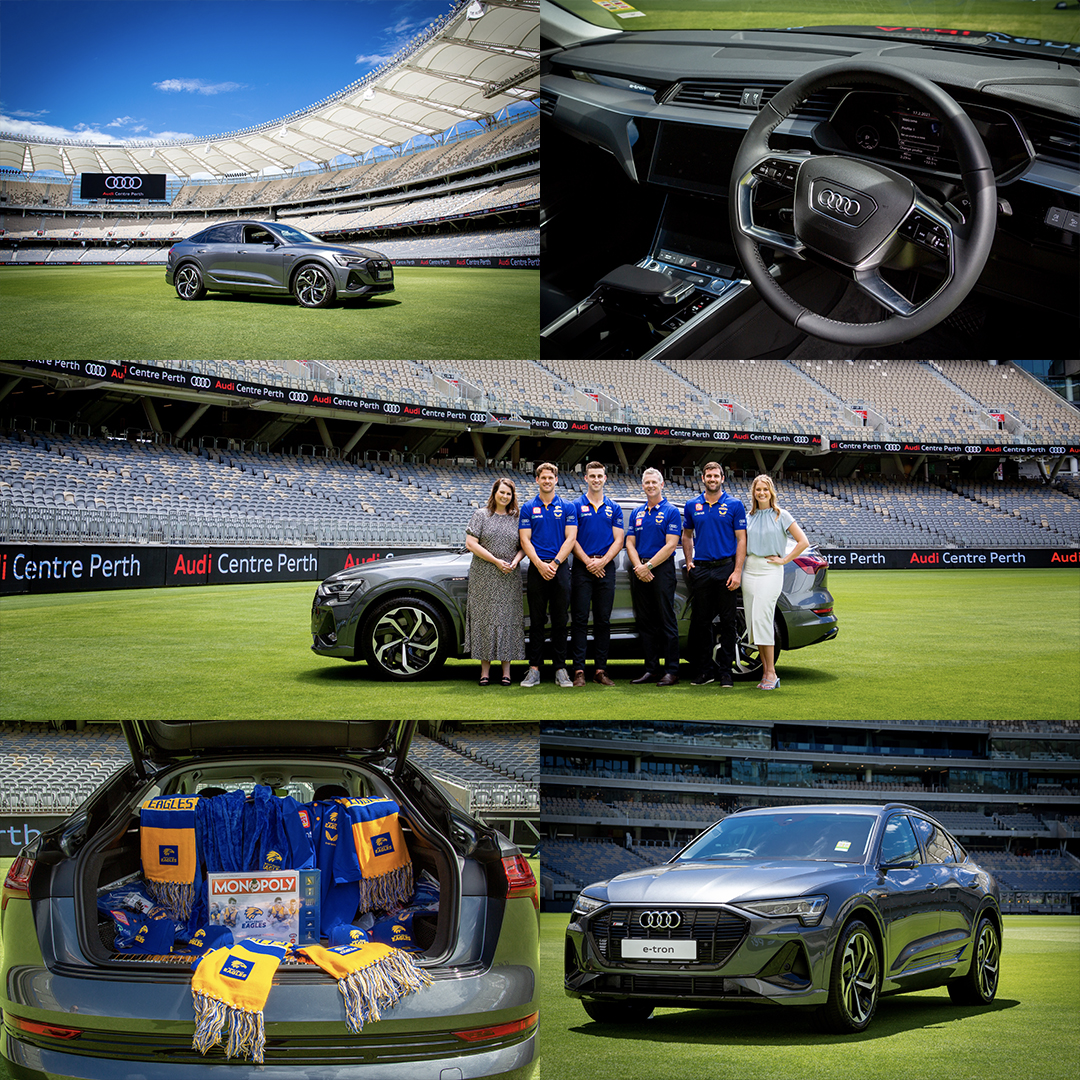 More about the Audi e-tron
How long will it take to fully recharge an Audi e-tron 'on the go' in Australia?
Both the Audi e-tron 50 and e-tron 55 will take approximately 30 minutes to charge to 80 percent of their capacity or 45 minutes to charge to 100 percent using the ultra-rapid charging stations available around the country.
What range can I get from a fully charged battery?
As with a tank of fuel, range will depend on the style of driving, terrain and what other demands are made on the battery, but with its 95kWh battery, a fully charged Audi e-tron 55 quattro can deliver over 400km range. The Audi e-tron 50 quattro with its 71kWh battery can deliver in excess of 300km. Both models also recover energy during the course of driving which can extend range further.
How do I charge my e-tron when I'm away from home or office?
When you purchase an Audi e-tron it comes with a six year subscription to the extensive Chargefox charging network which boasts an extensive, nationwide network of chargers or 'plugs'. Audi is a founding partner of the Chargfox network and the subscription provides e-tron owners with access to all ultra-rapid and selected fast and standard chargers within the Chargefox network.
What would I do if I found myself away from home with no charge?
Could Audi Roadside Assist help? The Audi e-tron comes with six years roadside assist. Given the proliferation of charging units around the country it's unlikely you'd ever find yourself with no charge or charging options. But if the unthinkable should happen, the Audi roadside assist can tow the vehicle to the closest High Performance Charging station or closest Audi dealership.
What is involved in having a charging station installed in my home and does this provide much faster charging than standard mains power?
Audi Australia has partnered with JetCharge for home or office installation requirements. JetCharge will complete a home check and provide advice on the appropriate vehicle charging infrastructure/installation relevant to your home. In most cases this will provide a faster charge rate than a standard 10 Amp power point. For example, the 11kW AC home-charging solution can charge the e tron 55 variants from empty to full in 8.5 hours and the e-tron 50 variants in 6 hours – ideal for charging over night.
Are there any personal risks in charging my Audi e-tron?
Much like refueling a vehicle at a petrol station, charging an e-tron is a safe procedure providing all necessary precautions are taken to ensure one's personal safety. The e-tron can even be charged when it is raining without any issues, as the charging system is fully enclosed.
How often does an Audi e-tron need servicing?
The e-tron has a service schedule of 24 Months or 30,000km, whichever occurs first. Any Audi dealer within the national network of 42, can service an e-tron vehicle.
How long does an Audi e-tron lithium-ion battery last and can they be repaired?
The e-tron's lithium-ion battery is covered by an 8 year/160,000km warranty for added peace of mind. The Audi e-tron 55 uses a 95kWh lithium ion battery that is made up of 36 individual modules with 12 cells in each module. If an individual cell is damaged, that individual cell can be replaced – negating the need to replace the complete battery.
Can I tow with my Audi e-tron?
Although many electric vehicles are unsuitable for towing, the Audi e-tron has more than sufficient torque to tow and has a towing capacity of up to 1.8 tonnes.

Vehicle pictured is shown with optional equipment for illustrative purposes only, some features not included in the prize vehicle.
Terms & Conditions