Fremantle midfielder Andrew Brayshaw says he will seek out Andrew Gaff for a handshake and some pleasantries when they cross paths in Sunday's pre-season clash in Mandurah.
Gaff copped an eight-week ban for breaking Brayshaw's jaw during a fiery western derby encounter in round 20 last year.
Brayshaw was forced to eat liquid food for a month afterwards, and he has since undergone root canal surgery to fix some of his teeth.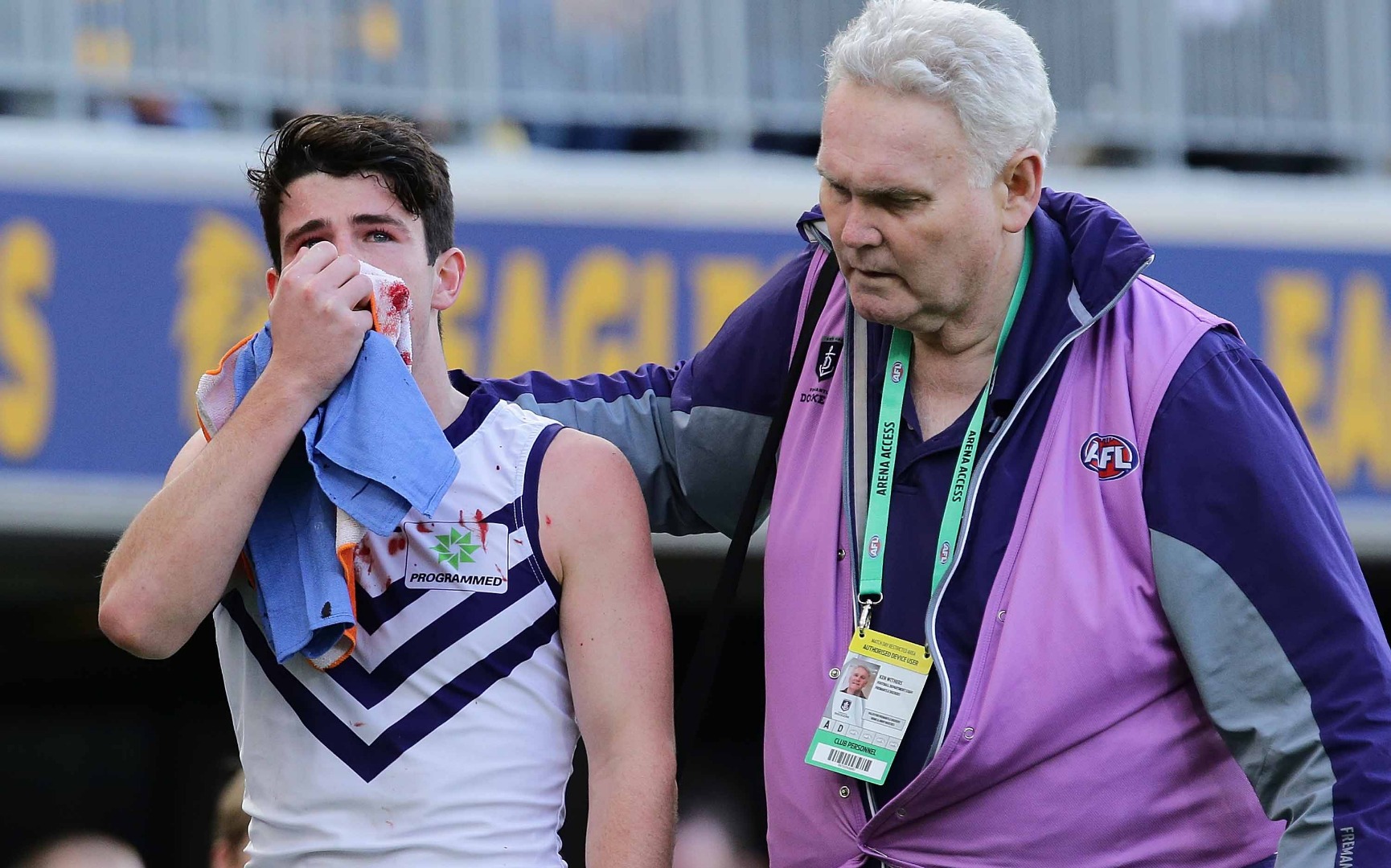 But Brayshaw insists he holds no animosity towards Gaff, and is keen to put on a public show of reconciliation if they line up on each other on Sunday.
"If we line up on each other I'll definitely shake his hand," Brayshaw said.
"I'm sure he'd probably want to do something similar. If I'm on him in the first line-up, I'll wish him good luck.
"But if I'm starting off (the ground) or he's starting off, it might not happen.
"But we'll definitely get in touch post the game and wish each other good luck for the rest of the year."
Fremantle players physically targeted Gaff last year after the Eagles midfielder floored Brayshaw.
But Brayshaw is confident his teammates won't target Gaff on Sunday.
Brayshaw, whose brother Hamish plays for West Coast, revealed he bumped into Gaff last month at a party.
"I was at my brother's 21st recently and a few of the West Coast players were there, including Andrew (Gaff)," Brayshaw said.
"I just said G'day to him, wished him good luck for the year.
"And he pretty much said the same thing to me. I think we've definitely both moved on from it."
Brayshaw says he has no mental demons despite the horrific nature of his jaw injury.
Some hits to the jaw during the pre-season have helped steel his confidence that his face will hold up to the rigours of elite football.
"Dave Mundy accidentally gave me a clip in the jaw, and I was fine," Brayshaw said.
"And on the weekend I knocked into Scott Pendlebury's shoulder and I was fine.
"If anything it's given me more confidence. My jaw feels really strong, and wearing that mouthguard is keeping me happy.
"It (the injury) is not going to change the way I go in and attack the footy."
AAP
Missed Clairsy & Lisa? Catch up by clicking play below!