Less than ten minutes into last night's episode of Bachelor In Paradise, Tenille Favios is seen flaunting her flawless bikini booty in a white, Brazilian-cut bikini, prompting Alex Nation and Bill Goldsmith to comment on how "phenomenal" she looked.
Viewers were quick to question Channel 10's decision to censor her backside with a large black bar.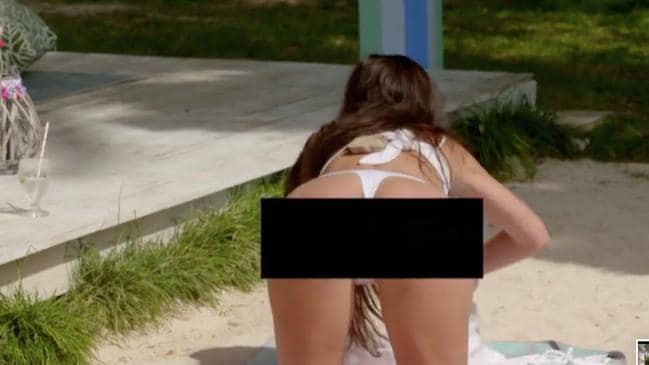 At the same time, Ivan Krslovic exudes terrifyingly possessive and aggressive behaviour towards Tenille.
Fuelled by jealousy and rage towards her other suitors, his behaviour ultimately results in his fellow Bachelors avoiding speaking to Tenille for fear of a physical altercation with the buff dancer.
His attempts to isolate her from her fellow contestants is a perfect example of emotional abuse, which Channel 10 decided to air. While it's important to raise awareness of these 'red flags', it is also pivotal to address the problem at hand.
Yes, a producer intervened at one point, but was that enough?
The dancer's alarming display of toxic masculinity was evident from the beginning. From punching a wall to his claims that Tenille was "his property and other guys should stick to the bro code", his unacceptable behaviour was present all along.
In a past episode, Ivan stormed into the 25-year-old's room when she was using the bathroom, and used his imposing stature to hold her into a submissive position where she was unable to move. She was consequently shamed, and made to feel guilty in front of the others for wanting space.
You go girl. #BachelorInParadiseAU pic.twitter.com/625nTarpN9

— Bachelor In Paradise Australia (@BachParadiseAU) April 28, 2019
While Ivan was reprimanded for his misunderstanding of the show's basic premise by producers, nobody in Paradise explicitly addressed the issue at hand or questioned the 29-year-old's obsessive behaviour.
So, isn't it ironic that Tenille's backside is censored, but Ivan's emotional abuse is aired without question?
"I don't understand why so many people are so confronted by the bikinis on this show," Gunsberg posted on his Twitter on Thursday.
"If that's what they want to wear, isn't that ok?"
I don't understand why so many people are so confronted by the bikinis on this show.

If that's what they want to wear, isn't that ok? #bachelorinparadiseau

— Osher Günsberg (@oshergunsberg) April 25, 2019
The majority of responses? All in agreement.
I'm more confronted by Ivan's behaviour 🤦🏽‍♀️

— kirrily seeley (@boodie13) April 25, 2019
Although the show has got people talking, it's been for the worrying depiction and glorification of behaviour that many argue constitutes domestic abuse.
According to The Australian Bureau of Statistics, 1 in 4 women have experienced emotional abuse by a current or former partner since the age of 15. These devastating statistics continue, with the ABS stating that 1 in 5 women have experienced sexual violence since the age of 15 while the AHRC notes that 85% of Australian women have been sexually harassed.
Many have taken to Twitter to share their concern as to why Ivan's abuse was allowed to continue without consequence or immediate eviction.
Ivan is a walking example of toxic masculinity #BachelorInParadiseAU

— Shea Rigney (@RigneyShea) April 24, 2019
I actually think the producers need to step in and evict Ivan, threats and possessiveness is not okay. #BachelorInParadiseAU

— Daryl (@xwickedmindx) April 24, 2019
The fact that Ivan is getting so much air time and not getting his behavior called out or addressed tells me Channel 10 is ok with this #BachelorinParadiseAU

— Yolanda (@yolanda_vu_) April 28, 2019
Please raise your hand if you feel terrified of Ivan.#bachelorinparadiseau pic.twitter.com/utezpqzQZs

— Simone (@Sim_oneL) April 28, 2019
In the era of the #MeToo movement, these scenes are absolutely shattering and set the movement for safer conduct towards women behind.
If Tenille's backside can be censored, then why can't Ivan's behaviour?
If you or somebody you know is experiencing domestic abuse or are unsure about associated behaviours, please contact 1800RESPECT.
Bachelor In Paradise continues on Tuesday at 8:40PM on Channel Ten.
Missed Clairsy & Lisa? Catch up by clicking play below!