A desperate Collingwood fan who is petitioning the AFL to overturn the Grand Final win is being countered by another petition calling for the original petition's removal.
Stay with me here.
It all started when Rod Craven, a Pies supporter in Victoria, posted a petition to Change.org to have the result of the 2018 Grand Final reviewed and reversed.
Mr Craven believed "that certain umpiring decisions in the 2018 AFL Grand Final were either wrongly awarded, were missed entirely and eventually cost the Collingwood Football Club the premiership".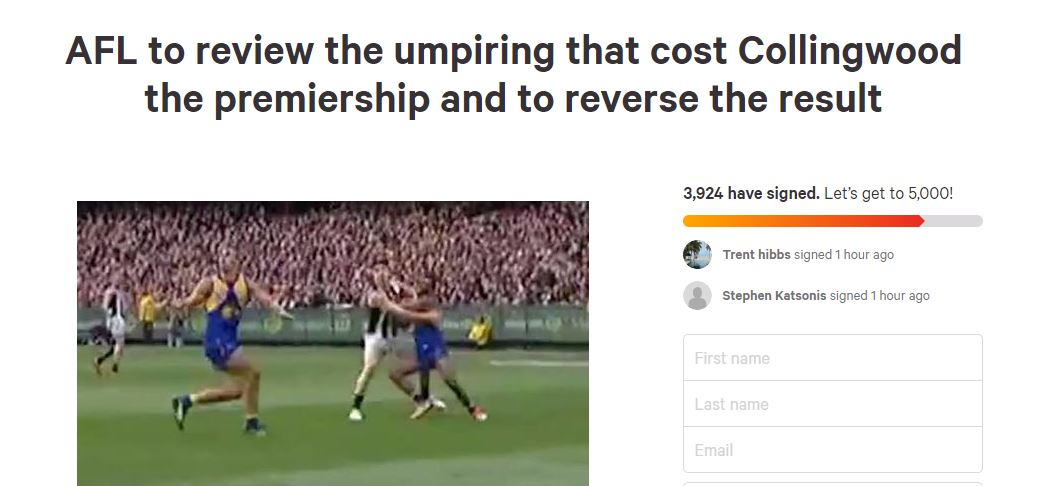 He also said that Dom Sheed's mark, which led to the match-winning goal, should not have counted as defender Brayden Maynard was being blocked by Eagle Willie Rioli.
"Illegal blocking … on Brayden Maynard with two minutes to play should have been paid as a free kick to Maynard as it was considered an act of interference which allowed the West Coast player to goal".
After two days, almost 4000 had signed Mr Craven's petition and, as you can imagine, stacks of comments:
"Collingwood should of won game was regged [sic]"
"Cooling wood [sic] are the best team and deserved that grand final"
"Clearly cost us! I cried myself to sleep Saturday night!"
"The WCE team was made up entirely of umpires. The pies deserve that win for sure and if no review then a replay should be played."
"Because Collingwood was rigged! The premiership is the find the best team which Collingwood were leading the game 100+ minutes"
Then this…
"As an WCE supporter I agree a GF replay is a great idea. Would be amazing to watch the Eagles beat the Pies 4 times in a year"
However, on Tuesday morning, another petition popped up countering the original petition as "ridiculous and silly" and "sour grapes".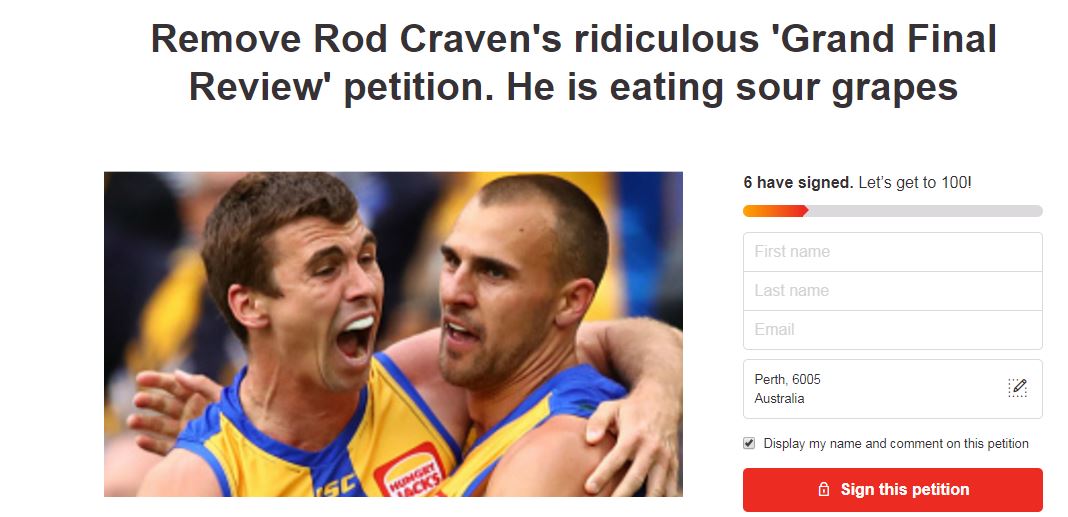 The new petition, kicked off by Sean Lindsay, is calling for the removal of Mr Craven's original petition.
Pass the popcorn.