A Facebook event has surfaced planning a protest over a vegan woman's recent legal battles with her neighbours.
A community in Girrawheen are planning to host a massive BBQ outside the vegan's home after she made headlines for suing her neighbours over the smell of meat cooking in their own backyard.
Massage therapist Cilla Carden has taken her neighbour Toan Vu and his family to the Supreme Court, demanding that they stop cooking BBQ's in their own backyard because the smell is stopping her from enjoying her own backyard.
She also claimed that her neighbours were being annoying because they were smoking outside and their children were bouncing basketballs.
A Supreme Court Judge and the State Administrative Tribunal dismissed Ms Carden's case and sided with her neighbours in this case. However, Mr Vu has since removed his barbecue from his yard and banned his children from playing basketball.
Taking her story to 9 News, she said that her neighbours have caused her "turmoil".
"They've put it there so I smell fish, all I can smell is fish," she said. "It's been devastating, it's been turmoil, it's been unrest, I haven't been able to sleep."
She received tons of backlash following the story and in a recent development, a Facebook Event has actually popped up with a plan to protest her actions.
Titled 'Community BBQ for Cilla Carden', the event has attracted the attention of over 4000 people who have all said that they are attending. Another 10,000 people have said that they are interest.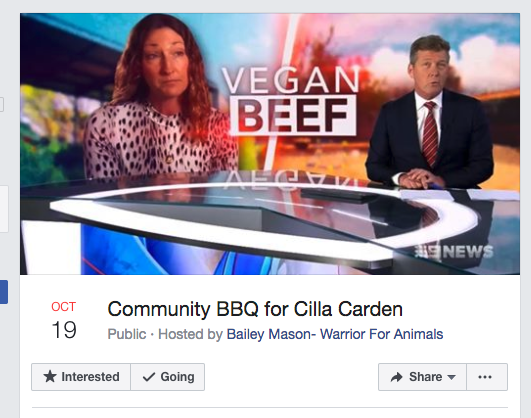 "Cilla Carden has a problem with her neighbours cooking meat on their BBQ, because she's a vegan. Recently taking them to the Supreme Court!" reads the event description.
"Don't let Cilla destroy a good old Aussie tradition, join us for a community BBQ in protest of her actions, and help Cilla Carden GET SOME PORK ON HER FORK.
"BYO hotdog buns, p.s. NO VEGANS."
Ms Carden has since spoken with The Daily Mail, telling them that the whole thing has been blown out of proportion.
"This is not about a vegan versus meat issue. I respect the right of people to eat meat! I have no problem with barbecues," she said. "The real issue is one between neighbours."
She also told the publication that she is aware of the Facebook event and has informed her lawyer, John Hammond from Hammond legal about it.
"Any person who seeks to attend Ms Carden's property on Saturday October 19, 2019 or at any other time in relation to this event or matter will be referred to the WA police on the ground of trespass," Mr Hamden wrote in a statement on Facebook, according to News.com.au.
"Security cameras will be installed to obtain vision of any person attending the property and the vision will be provided to the police."
An update has since been made to the Facebook event, saying that this is meant to be a "peaceful protest".
"THIS IS A PEACEFUL PROTEST, Nobody is permitted to enter Mrs Cardens Property," the event says.
"There will be wardens on hand to make sure this does not happen.
Instead the front yards of participating neighbours will be available for use, food trucks will be parked in participating neighbours driveways, throughout the street."