I remember when Hysteria came out.
It was 1987, I was 10 and I had managed to shotgun the front seat from my brother as mum drove along the Kwinana Freeway.
Back then, people used to write the odd birthday messages or the odd 'Sharon, will you marry me?' on old bedsheets and hang them off the footbridges.
This particular day was different. As we approached the bridge, I was drawn to the lone spray-painted banner we were about to speed under: "Def Leppard Hysteria Out Today!!"
On Friday night, 31 years later, the significance of that album wasn't just a few cherry picks for Def Leppard's concert setlist – it was the setlist.
Hysteria is big, bold and perfectly multilayered stadium rock and, on Friday night, it was played in its glorious entirety:
Women
Rocket
Animal
Love Bites
Pour Some Sugar On Me
Armageddon It
Gods of War
Don't Shoot Shotgun
Run Riot
Hysteria
Excitable
Love and Affection
It wasn't quite a full house at Perth's RAC Arena, but it kinda didn't matter. Just after 9pm, we got what we came for.
After a countdown, the band – fronted by Joe Elliot (who swapped out his '80s mullet for the straightening irons a long time ago and has never looked back) along with Phil Collen (who, in my opinion, makes the best porny guitar faces while seemingly always shirtless), Rick Savage, Rick Allen and Vivian Campbell jumped straight in with Women – a good start.
Then the fun really began.
We had hit the straight of some absolute bangers. One. After. The. Other.
Gahhhhhh.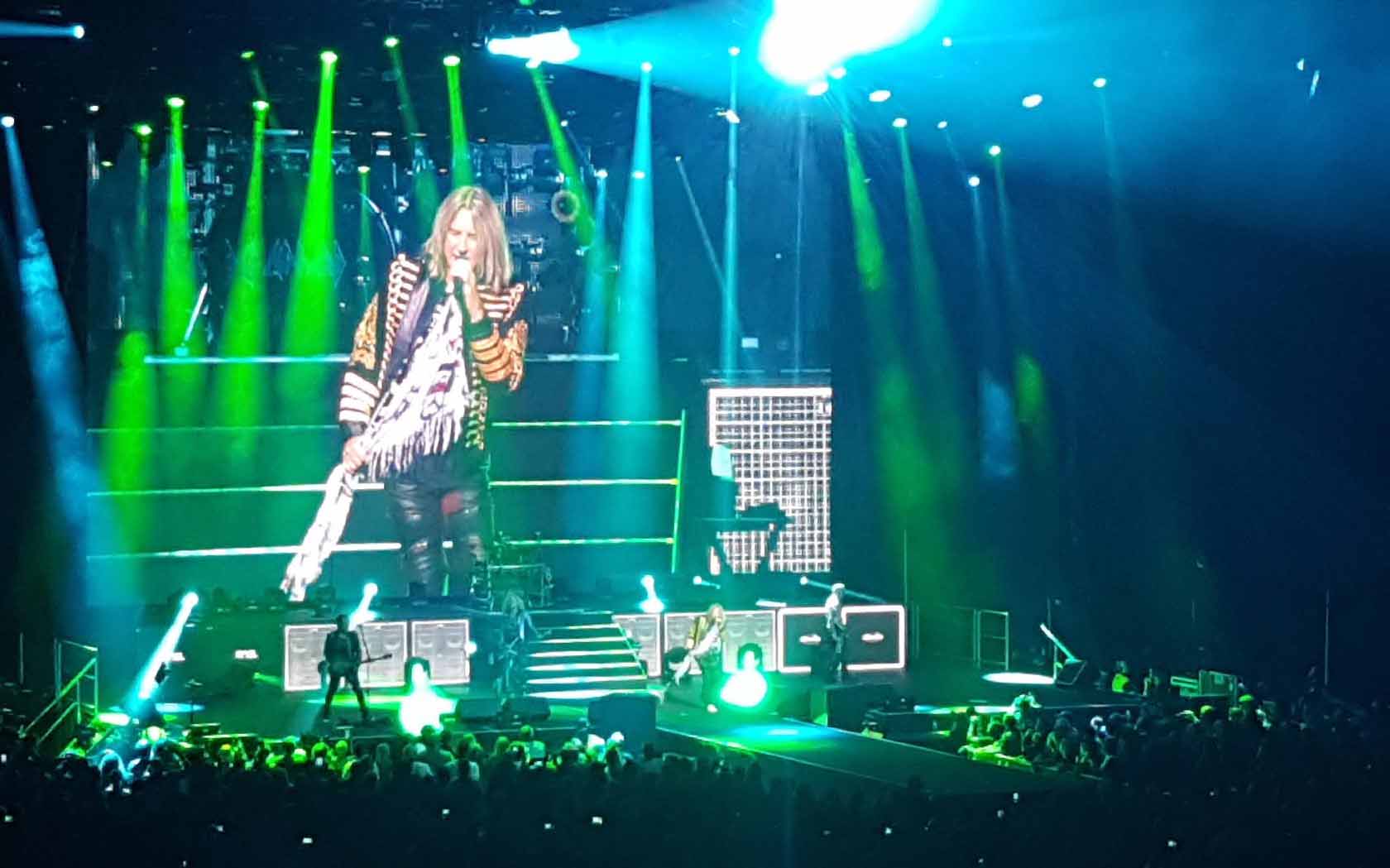 For me, to try and list Rocket, Animal, Love Bites, Pour Some Sugar On Me and Armageddon It from favourite to least favourite is futile – they're all high-rotation faves. Pretty sure my date has some serious bruising from my enthusiastic slapping of his leg while screaming the lyrics.
As Love Bites wrapped (sweet Jesus it felt like warm honey to hear it live again), I had noticed that the audience still hadn't been acknowledged, which could've been that there had been no real break in momentum, which at times felt like they were rushing to the finish line, but who cared, Pour Some Sugar On Me kicked off and suddenly we had some serious fist-punching-to-the-sky to do.
Five songs in, the audience finally got some chat from Joe before a video tribute to the late Steve Clark, Def Lep's guitarist who died in 1991.
Not gonna lie, hearing Gods of War, Don't Shoot Shotgun and Run Riot was like catching up with an old mate I hadn't seen in ages… but tying up those three with Hysteria was exactly what was needed to bring the audience back, particularly when Joe slipped in a couple of lines from the David Bowie classic, We Could Be Heroes, before throwing a kiss towards the sky.
Thing is, I kept wanting more from them, seeing old footage of them absolutely giving their all to sold-out stadiums with crowds as far as you could see – that's the kind of energy I was waiting (and waiting) for. But then it hit me, Joe Elliot and Rick Savage (bass) have been in the band since its inception – we're talking 1977. Rick Allen (drums) joined a year later in 1978. These guys have been playing high-voltage rock for almost 40 years. So you know what? They get a pass.
The last bars of Love and Affection meant one thing – that was the album, done and dusted.
Now what?
Well, it wouldn't be fair if Def Lep had come all this way and not play some of their other stuff, right?
RIGHT.
A fresh set of duds later, they launched into a handful of sick tracks from other albums that I hadn't realised I was dying to hear.
When Love And Hate Collide was chased with 96FM stalwart, Let's Get Rocked. My previous thoughts on energy were blown out of the goddamn water from the nanosecond it started. Joe gave an absolutely electric performance to the cheekily filthy track.
They wrapped up the night with the song that shot them into the stratosphere in 1983, Photograph.
This Leppard never has, and never will, change its spots.
Def Leppard are touring nationally.
Remaining show dates:
Adelaide Entertainment Centre – November 4
Brisbane Entertainment Centre – November 6
Rod Laver Arena, Melbourne – November 8
ICC Sydney Theatre, Sydney – November 10
Tickets at livenation.com.au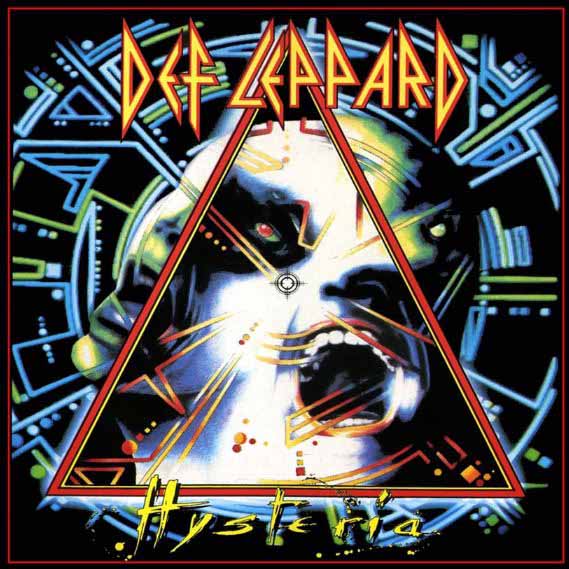 Fun facts:
Hysteria's goal was to be a hard rock version of Michael Jackson's Thriller, in that every track was a potential hit single.
Ranked 464 in Rock Hard magazine's The 500 Greatest Rock & Metal Albums of All Time.
Rolling Stone lists it in their 500 Best Albums Of All Time as well as taking out the top spot in their 50 Greatest Hair Metal Albums list.
The album was also included in 1001 Albums You Must Hear Before You Die
Missed Clairsy & Lisa? Catch up by clicking play below!