The Kardashians and Jenners are known to push the boundaries when it comes to photoshoots (Kim Kardashian's nude Paper magazine cover for starters…need we say more?) and they're definitely no strangers to controversy (all we'll say is Pepsi ad).
But today the Kar-Jenner that is raising eyebrows and drawing a mega debate is the youngest member of the Klan, Kylie Jenner, after her face graced the cover of Forbes Magazine.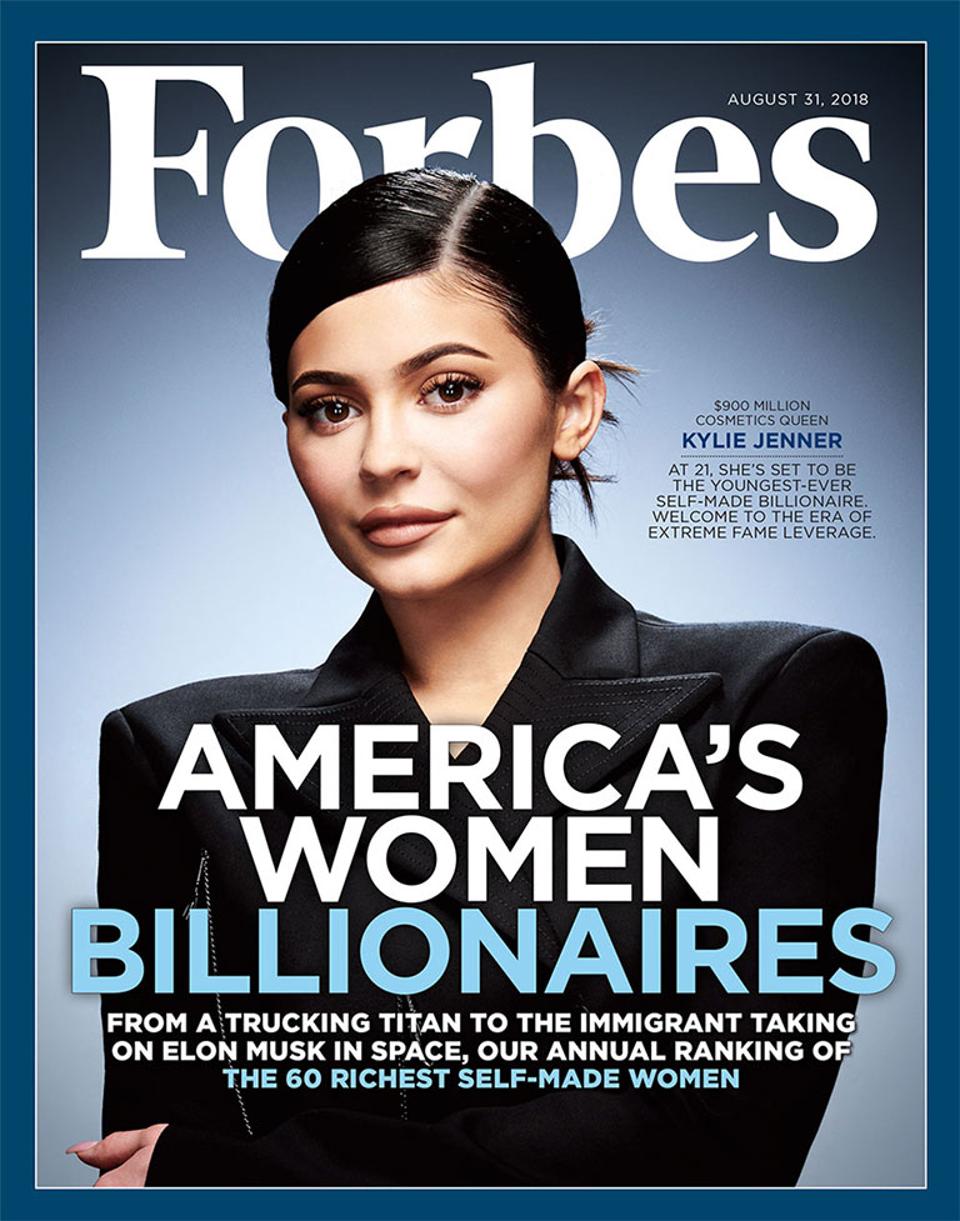 The reality television star and owner of a beauty empire is copping a heap of criticism of the cover shoot. But it's got nothing to do with her appearance. In fact, this is probably the most professional and unprovocative photo that we've ever seen of Kylie. The thing that people are taking issue with is her eligibility.
The young Jenner sister features on the front of the August issue of the business mag, which annually ranks the most successful female entrepreneurs across America.
When you read about the success of Kylie at just 20-years-old, being worth a whopping $US900 million ($AU1.2 billion) through her business endeavour and the three-years success of Kylie Cosmetics, it's a no brainer that she would make the highly coveted list.
In comparison, Kylie's sister and arguably the most famous of the sisters, Kim Kardashian-West, is worth an estimated $US350 million.
Kylie has become the youngest person to appear on the fourth ranking of America's Richest Self-Made Women and according to the publication it's only up from here. Forbes estimates that in a year's time, Jenner will become the youngest self-made billionaire ever, male or female, overtaking Facebook founder Mark Zuckerburg who reached the billions at 23.
But this is the exact point that people are taking issue with and it is causing a heavy debate online. People are unhappy with forbes describing Jenner as a "self-made billionaire" because, well, they would say that she is far from being unaided in her success.
How Kylie Jenner followed her passion while turning her cosmetic brand into a $900M empire:https://t.co/yJi3QdpQVu #SelfMadeWomen pic.twitter.com/UocPmkKuD3

— Forbes (@Forbes) July 11, 2018
The success of Kylie's makeup empire no doubt was helped by the promotion of her products on her social media channels, including her 110 million Instagram followers. Kylie even credited social media as part of the reason for her success in the interview with Forbes.
"Social media is an amazing platform," she said. "I have such easy access to my fans and my customers."
And how did she get said followers? Because of years on a highly popular reality television show that was based around her family. Not to mention the fact that she more than easily had the funds available to her to start up Kylie Cosmetics in the first place due to her family's reality success.
Critics have suggested that the definition of a self-made entrepreneur is someone who doesn't rely on the wealth of their family or an existing brand to develop their own. And people haven't been shy about tweeting about their opinion, with even Dictionary.com getting in on the shade.
Self-made means having succeeded in life unaided.

Used in a sentence: Forbes says that Kylie Jenner is a self-made woman. https://t.co/sr8Ncd7s5A https://t.co/ehEL7Cf6KV

— Dictionary.com (@Dictionarycom) July 11, 2018
Forbes calling Kylie Jenner a self-made billionaire when she was born into extreme wealth that most people will never even be adjacent to pic.twitter.com/1SF9f8BGRy

— Judy Robbins (@_judyrobbins) July 11, 2018
Kylie Jenner on the cover of Forbes is nonsense not just because she was born rich but because she was literally HANDED her influence. She steals people's work, style, and culture. A doctor gave her her appearance, and her mother keeps her name in the news. Businesswoman my ASS.

— The Opinion (@SheraeSpeaks_) July 11, 2018
LMAO @Forbes calling @KylieJenner self-made is a joke. coming from a wealthy family that already dominates the fashion and beauty industry doesn't really strike me as self-made, especially when her products are so trash she literally couldn't sell them without her family's fame

— sav (@savvtiva) July 11, 2018
@Forbes Did you really just call @KylieJenner SELF MADE????? What an absolute joke 😂😂😂😂😂😂🤨

— Ay_xo (@Ay_xo) July 11, 2018
Nothing about Kylie Jenner is self made COME ON FORBES YOU MUST KNOW THIS

— danica🖤 (@xanicabackwood) July 11, 2018
Of course building a company as successful as Kylie Cosmetics in no way comes easy no matter how famous Kylie was to begin with, and a lot of blood, sweat and tears no doubt went into the creation of the thriving business.
So do you really think that it's okay to discredit and drag down another woman's success just because they may have had opportunities that let's face it, not many of us could ever dream of having?
It's definitely a tough topic to debate. What do you think? If Kylie Jenner deserving of the cover or do you think it's kind of undeserving?
Missed Clairsy & Lisa? Catch up by clicking play below!