My first music festival in Perth was pretty hectic. It was 2002 and, other than wearing an oversized sombrero (de riguer festival wear), I was embarrassingly underprepared.
If I go to a music festival now, 15 years later, I need to know stuff my younger self wouldn't have given two hoots about.
Now that the 96FM Kickstart Summer Concert is about to, well, kick off, here's what you need to know so you can just relax and enjoy the Hoodoo Gurus, Daryl Braithwaite, The Black Sorrows (with the return of Vika & Linda Bull), Thirsty Merc, ARC and The Stems.
NO, YOU WON'T HAVE TO STAND UP THE WHOLE TIME
The biggest difference between the 96FM Kickstart Summer Concert and music festivals you went to in your 20s, is that, more than ever before, you'll be interested in whether you can bring a chair or not.
The good thing is that, yes, low chairs are OK. As are picnic rugs. Not just to sit on, but for when you no doubt get a bit chilly later.
Speaking of picnics, there are usually two groups of festival-goers: those that put together the most amazing al fresco spreads… and those who are friends with those people.
If you're the latter and can't be bothered bringing your own picnic because reasons (like you're only going to have to pack it back up again to take it back home and, really, who can be shagged doing that, not me, that's who), you have a couple of options.
– Make friends with someone who brought an amazing picnic.
– Food trucks. We'll have a bunch of 'em there.
– Order a Kickstart Picnic Basket. These bad boys include the following… Char Siu pork rice paper roll – Chipotle Chicken, avocado, tomato chutney baguette – Poached pear, rocket, walnut & parmesan salad – Roast butternut pumpkin, cous cous salad, whipped feta – assorted profiteroles. (Just note that they must must must be ordered by Wednesday, November 7)
Can you imagine getting one of these at the Big Day Out or RockIt back in the day? It'd be more like a sad bucket of crinkle-cut chips, a ripped beer ticket and a glowstick.
We can also announce that, for the very first time, we will have a 96FM Festival Tent where listeners can chill out, get out of the sun for a bit and have a FREE MASSAGE.
And for those whose phones absolutely mow through juice, we'll also have a recharge station… and we'll have airbrush tattoo artists offering FREE festival tatts.
A WEE NOTE
Your 20-year-old self wouldn't have thought twice about the hell pits toilets at a music festival, other than you just accepted how inhumane they can get, and that's just 15 minutes after the gates open.
But, we get it, your interest the toilet situation is now paramount.
The good news is there will be no portaloos at Kickstart Summer as all the loos at Ascot racecourse are established. Yasssssss.
My nan used to always say 'it's better to have and not need than to need and not have'. Twenty years ago, I just thought that applied to cardigans. Now, I think a travel pack of tissues and hand sanitiser.
Not gonna lie, even if you don't use them, these things in a precarious bathroom situation can make you a goddamn superhero to someone else.
WILL I NEED TO BRING A JUMPER?
This festival isn't Coachella, which really is more about being seen than seeing live music.
If you're deciding to either wear a Hoodoos or Spiderbait T-shirt – or, hey, even a buttoned shirt from Gazman – you're on the right track.
But here's what you should definitely rethink…
Rompers. Don't be fooled. They look like fun, until you wear one and drink for a couple of hours. It's worse for the ladies. The regret you feel when you realise you have to get completely undressed to go the loo – in a public loo – is overwhelming.
Onesies. Which are essentially rompers on steroids with a heck of a lot more polyester 'fur'. Wearing one of these, mid-November, is a great idea if you want to create your own personal global warming disaster.
Heels. OK, so while they would normally be totally appropes when the races are on, for the Kickstart Summer Concert? Not so much. The event will be held on a grassed area so your heels will be sinking into the ground all day. If you do wear heels, before you know it you'll be carrying them around like you've had one of *those* very long days at the Perth Cup.
EXTRA THINGS THAT WILL SERIOUSLY ADD TO YOUR DAY
Pregaming. No, I'm not talking about preloading drinks. I'm talking about creating a playlist or pulling out some LPs or CDs of the artists you're looking forward to seeing to get you in Kickstart mode. Even if you're not familiar with a couple of the other artists, maybe chuck in a few random tracks from them.
Dance. OK, getting down to The Horses will be slightly cruisier than the kind of jumping around you might have done when you saw The Prodigy in 2002, but it's the best way to stave off tiredness.
Chug some water, reapply the sunscreen and get back out there.
Attitude. Bring your best one, and don't forget, you're going to be in great company.
Don't worry, you're still cool.
Not to your kids, but to us.
The 96FM Kickstart Summer Concert at Ascot Racecourse on Sunday, November 11.
Click here for tickets – they're only $89.96!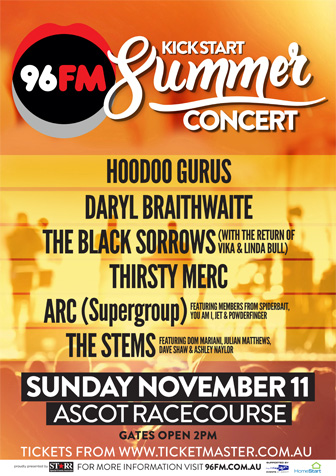 Missed Clairsy & Lisa? Catch up by clicking play below!