Aussies may be about to, or have, received an email from Netflix about their subscription needs to be 'updated'.
The email is A SCAM that has been carefully designed to mimic Netflix's branding.
The email says "We weren't able to complete your last payment. To ensure that the service will not be ended, and your subscription will not be cancelled, please update your current billing information."
Unsuspecting recipients who click the 'update now' link will be taken to a fake Netflix branded sign-in page that asks for their username and password, before being asked to update their payment details.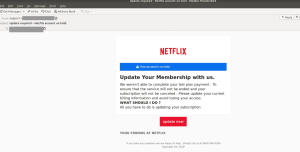 Email security company MailGuard discovered the scam and says "As you can see from the fake log-in screens, cybercriminals have gone to great efforts to incorporate the exact colour scheme, logo, fonts and popular imagery commonly found on Netflix pages in a bid to convince users that the email is authentic."
"By including the threat in the email that recipients won't be able to use their Netflix services if they don't update their payment information is a trick designed to spark panic and urgency, further motivating quick action."
"If you see an email from Netflix, please exercise caution and make sure it is legitimate before you open it," explained MailGuard.
Missed The Bunch with Clairsy & Lisa? Catch up by clicking play below!