Married At First Sight's 'relationship expert' Mel Schilling infuriated the nation after slamming Bronson Norrish for using the C-bomb during Sunday night's commitment ceremony.
A Change.org petition demanding Schilling apologises for her outburst and her dismissal from the show was created shortly after. Less than 24 hours later, the petition had attracted over 25,000 signatures from furious fans across Australia.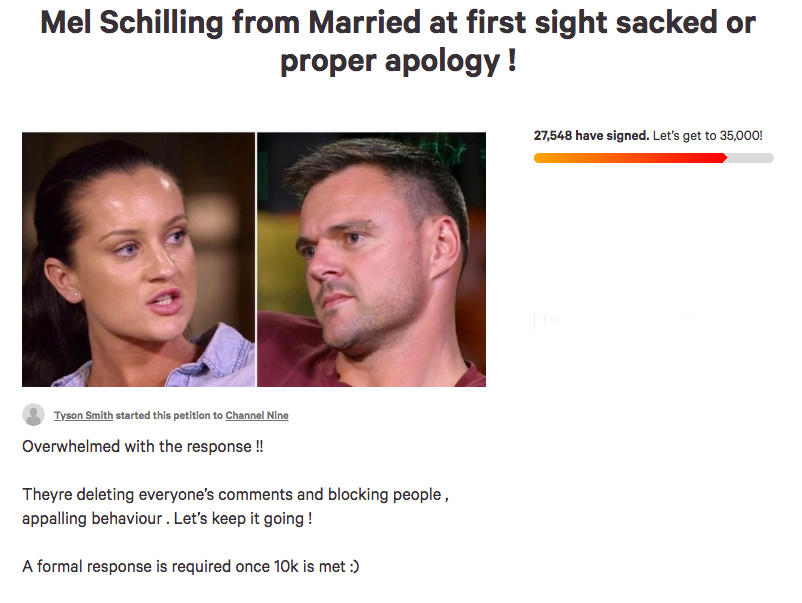 "Married at first sight [sic] so called expert 'Mel Schilling' lashes out at Bronson for using foul language," the petition states.
"This so called psychologist is a biased feminist who has made it clear that she thinks it's okay for a woman to behave the way Ines does.
'Bronson has been a victim of her verbal and emotional abuse all week, and the second he decides its enough "expert" Mel comes in and says he shouldn't be using that language.
'The thing is, Ines is exactly what he said, a nasty, abusive piece of work."
It concludes: "Mel needs to make a formal apology or be sacked from the show. The show doesn't need one sided feminists as an 'expert'".
On Sunday's intense episode of Married At First Sight, Bronson said that Ines was acting like a c**t. While Ines requested to leave the experiment, Bronson decided to give the relationship a second chance, forcing her to endure another week with him.
"When we did the questionnaire thing, Ines was amazing that night, like, really amazing. I loved her to pieces that night," he explained.
"Next morning, the Hulk came out. Straight back to a c**t. I'm not calling her a c**t, I'm saying she acts like a c**t'.
Relationship 'expert' Mel Schilling was openly disgusted by the slur, telling Bronson: "Don't use language like that if you want any chance of a relationship with a woman."
In response to the backlash, Schilling told 9 Honey she was "gender blind" when she gave advice to MAFS contestants.
"Abusive or harmful behaviour is something I'm going to call out whether it's men or women doing it," she said.
Despite being highly criticised on the show, viewers publicly praised Bronson and his decision to stand up for himself, claiming that calling Ines the c-word after she verbally abused him was completely justified.
Missed Clairsy & Lisa? Catch up by clicking play below!