As the end to this season of Married At First Sight draws closer, many of the couples are in hot water.
One of the couples who have hit rock bottom is Cathy Evans and Josh Pihlak, who walked into the experiment as one of the strongest to date. Unfortunately, communication issues saw the couple crash down and things seem to have gone beyond repair… at least from the sound of this Facebook post!
After Monday night's episode, which saw the pair visit Pihlak's hometown, he lashed out on the social media website to release his frustration.
"What a terrible edit, f**k it I'm calling mum," Pihlak wrote in posts obtained by the Daily Mail.
In the comments, Pihlak claimed that producers had left out the full lunch his family shared with Evans before a tense conversation about their relationship with his protective mother Mandy Manning.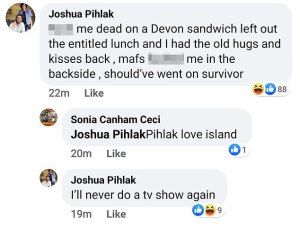 Speaking of Mandy, she also threw her two cents in, saying that Evans was the 'actress from hell' and a 'paid actress employed by producers'.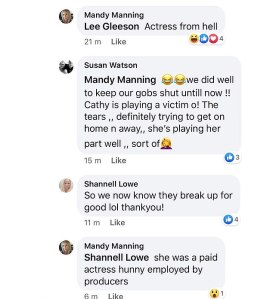 Even if these two may have broken up… we'd hate to think things may be so bitter. Eh, reality TV.
Missed Clairsy & Lisa? Catch up by clicking play below!