People are claiming to see haunting images of faces in the flames that engulfed Notre Dame Cathedral – with one photo allegedly showing Jesus in the blaze.
One of these people is Lesley Rowan from Scotland.
The 38-year-old was reading about the inferno when she claims to have noticed in one of the pictures a figure in the smoke.
She took to social media claiming to see the silhouette of Jesus pointing outwards from the billowing smoke.
"I may be letting my mind play tricks on me here, folks take a close look at this pic and what do u [sic] see," she posted to Facebook alongside a photo of the blaze.
"I've even circled it!!!"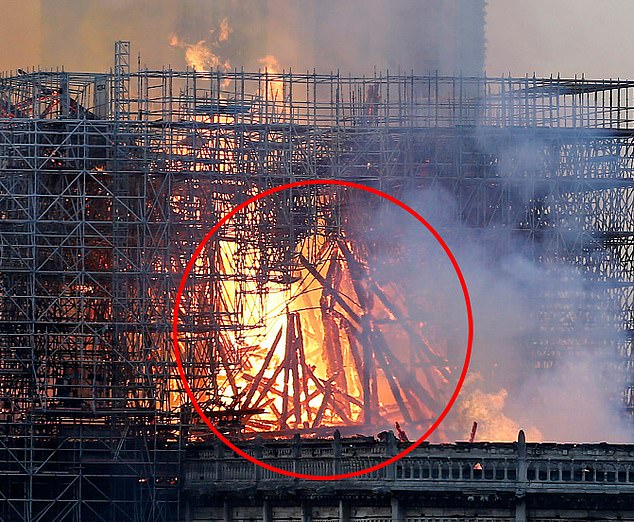 She told the Daily Record: "When I looked at this photo last night, I was really astounded by what I saw.
"When I look at it I see a silhouette of Jesus. I really see a vivid image.
"I shared it and asked for people's opinions – even my brother in Australia said it looks like Jesus."
Some social media users agreed with Lesley's claims, with one saying: "Can 100% see the figure of Christ in the flames! Everyone I've shown thinks the same!"
Another wrote: "Looks like a figure of Jesus or I am tripping."
Meanwhile, others claim that a menacing face can be seen in the front-page image of 'the sun' showing the moment the cathedral's beloved 300ft spire collapsed.
"Anyone else can see a freaky face in the yellow smoke on the left of the spire??" a Twitter user wrote.
Anyone else can see a freaky face in the yellow smoke on the left of the spire?? pic.twitter.com/9zuXoUCrKB

— Lucy R (@Lucykiss18) April 15, 2019
On Tuesday morning (Australian time), millions watched as France's famed Notre-Dame cathedral became engulfed by a massive fire.
Flames burst through the roof of the centuries-old cathedral and engulfed the spire, which collapsed, quickly followed by the entire roof. The fire then spread to one of its two towers.
Hundreds of firefighters managed to save Notre Dame's iconic twin bell towers, and rescue many of its prized treasures including the "Sainte Couronne" (holy crown), which is made of braided reed, and was brought to France from Constantinople in the 12th century.