An early learning centre in Sydney has decided to do away with Mother's Day out of respect to single-parent families.
In an email sent out earlier this week, the Learn and Laugh early childhood centre in Drummoyne, parents were advised of the change, which also includes Father's Day.
"We have spent a lot of time discussing and reflection on this and believe we want to be a more inclusive centre," it read.
"We want to include all families here at Learn and Laugh regardless of their family dynamics.
"Instead, we have decided to do family and friends day at different times throughout the year. That way anyone close to the children can come and take part."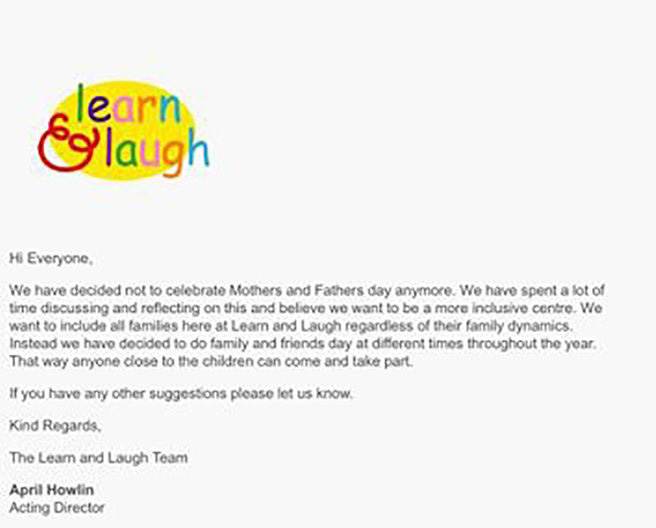 The changes were implemented to protect children from single-parent families who could become distressed at being unable to take part, 10 daily reported.
Reactions from parents have been mixed.
"It's not like Mother's Day or Father's Day has been cancelled," mum Elsa Geelan told 10 daily.
"If it makes a few people happy, it's nicer to be kind than it is to be right. The kids are under five, they don't really understand that much anyway. It's not like we're taking something away that they're going to miss."
Danny Lattouf, however, said it was "a bit of a slap in the face".
"One of the most important things in my life is being a father and embracing that with my child," he said.
"[The celebrations] are nothing enormous, it's a very small gesture. I don't believe it alienates anyone. If you're a child from a single-parent household, or if you don't have a father, I can understand that, but we can't go around sheltering children from the reality of everything that goes on in the world."
Learn and Laugh's decision is expected to roll out to their other centres, including Alexandria, Rosebury, Hornsby, Wyoming and Lewisham.
10 daily