Hollywood is paying tribute to Kirk Douglas, with some of the biggest names of the screen offering their thoughts and condolences following the legendary actor's death late on Wednesday night.
The Academy of Motion Picture Arts and Sciences led the way, tweeting a picture of Douglas from his best-known film Spartacus alongside his quote: "I wanted to be an actor ever since I was a kid in the second grade. I did a play, and my mother made a black apron, and I played a shoemaker. After the performance, [my father] gave me my first Oscar: an ice cream cone."
They followed up with the message: "Goodbye to a Hollywood legend."
Douglas was 103.
Mitzi Gaynor, who starred alongside Douglas in the 1963 film For Love or Money reflected on their time working together: "Bravo Kirk Douglas on an incredible life. Thank you for so generously sharing your amazing talent with all of us. The film we made together will always hold a special place in my heart. My love to Anne & your beautiful family."
Star Wars actor Mark Hamill called Douglas "one of the biggest stars of all time & a brilliant actor with an unforgettable, blazing charisma."
He added one of Douglas's greatest achievements was rebelling against the Hollywood blacklist of alleged Communists and sympathisers during the Cold War era.
"He will also be remembered for putting his career on the line by defying the Hollywood Blacklist, hiring writer Dalton Trumbo for the classic Spartacus," Hamill said.
Rob Reiner, the celebrated director of films such as A Few Good Men, called Douglas an icon.
"Kirk Douglas will always be an icon in the pantheon of Hollywood," he tweeted. "He put himself on the line to break the blacklist. My love goes out to my friend Michael and the whole family."
Seinfeld actor Jason Alexander tweeted: "Heartbroken. Kirk Douglas was a friend and an absolute legend of a star and human. He got better with every passing day. So honored to have known him. My love to his family. We could use a true Spartacus."
Star Trek actor William Shatner also paid his respects to the Douglas' family.
"Condolences to the family of Kirk Douglas. What an incredible icon he was in this industry!," Shatner said.
Actor Danny DeVito was upbeat in his reflection of Douglas' career, tweeting: "Kirk Douglas. The inspirational Scalawag. 103 years on this earth. That's got a nice ring to it! Great hanging with you man."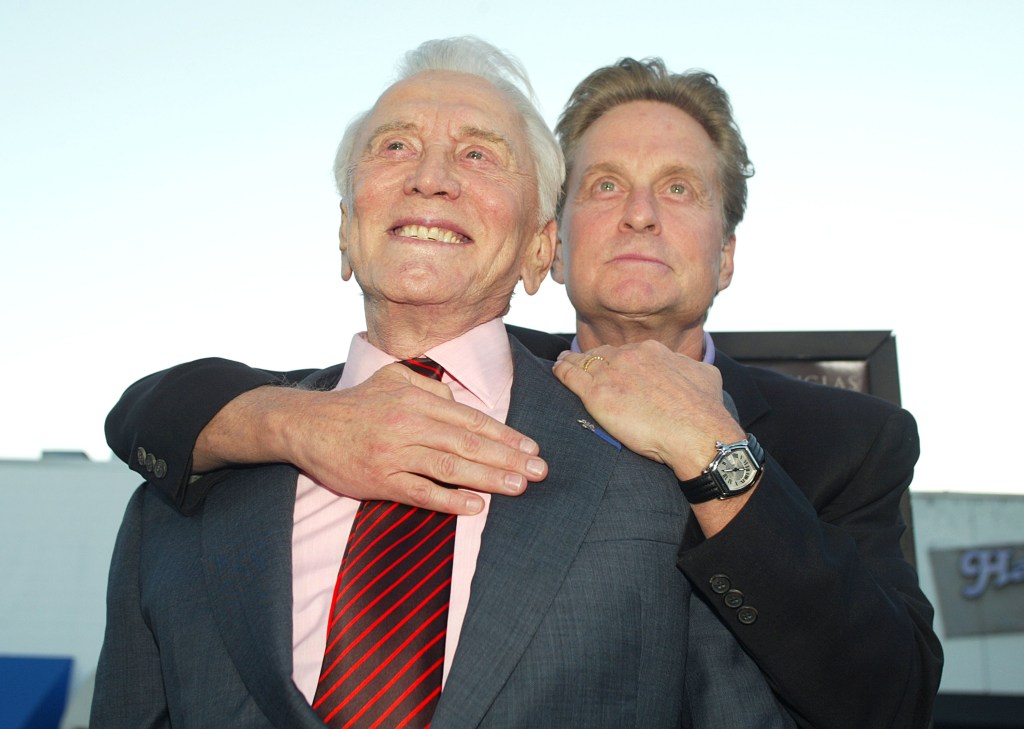 Kirk Douglas facts:
* Born Issur Danielovitch of Russian-Jewish ancestry in New York, Douglas had two bar mitzvahs – one at the traditional age of 13 and another at 83 when he reaffirmed his faith.
* Because he was only about 1.75 metres tall, Douglas often wore lifts in his shoes on screen.
* He was to have starred with Sylvester Stallone in First Blood, the initial movie in the Rambo series, but left after Stallone rejected his suggested script changes.
* A 1996 stroke left Douglas with slurred speech and damaged facial nerves. It did not, however, keep him from attending the Academy Awards ceremony two weeks later to receive a Lifetime Achievement Award.
* Douglas starred in a 1963 stage version of Ken Kesey's novel One Flew Over the Cuckoo's Nest and tried to make a movie of the book. He could not find an interested studio but his son Michael finally got the film made in 1975.
* Douglas was 75 when he survived a helicopter crash that killed two other people.
* President Jimmy Carter gave Douglas the Presidential Medal of Freedom, the nation's highest civilian award, in 1981.
* He was among recipients of the 1994 Kennedy Center Honors award recipients.
AAP
Missed The Bunch with Clairsy & Lisa? Catch up by clicking play below!