After completely cleaning up all the major comedy awards last year, the cast of Schitt's Creek reunited at the 2021 Emmy Awards… where a glitch sent them right back to being the Rose family.
Dan Levy, Catherine O'Hara, Annie Murphy, and Eugene Levy took to the stage to present the award for Comedy Writing and Comedy Directing – both awards their series took home last year.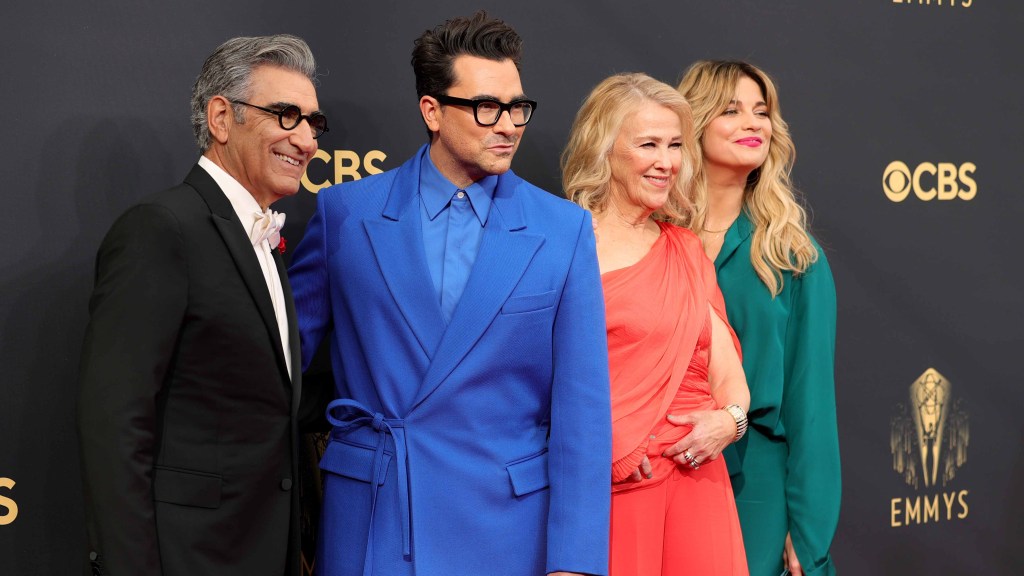 As they recovered from the standing ovation they received, it was clear something was wrong.
"Thank you so much. There's nothing on the prompter," Dan said.
Was this part of their appearance, was this a comedy bit?
Eugene suggested the teleprompter glitch was "on purpose".
"Why would anyone want to embarrass us on national television on purpose?" Dan asked to which Eugene (his father in real life) replied that he didn't know.
The riffing continued.
Catherine asked Eugene if he did something and he admitted talking to the writers to see if they could "lift the dialog"
"Lift was the word that you used?" Dan asked.
"Yeah, tighten it up a little," Eugene said.
"And what was their response?" Catherine asked.
"Well…" Eugene said looking at the 'blank' teleprompter.
Missed The Bunch with Clairsy & Lisa? Catch up by clicking play below!