Who ever said you need more than a week to organise a STUNNING wedding!?
It's been one helluva week, but Will & Woody managed to pull off an epic wedding for listeners Zane & Chloe. It certainly didn't just happen overnight, but over seven nights, in fact. WATCH the video above to see the final product, and see below how the story unfolded step by step.
STEP 1: FIND SOMEONE WHO WANTS TO PROPOSE
The first phase of the experiment was to find someone who was thinking about proposing to their partner. After Will & Woody announced the idea on their radio show, they were inundated with calls. It seemed there were plenty of Aussies, both young and old, who were keen to score a free wedding despite the fact it would all happen in a single week. After careful consideration, the boys chose Zane, who had been dating his longtime partner Chloe for 7 years, and had two kids within that time. But they'd never had the available time, or funds, to tie the knot. This was their moment:
Step 2: Find A Ring
Zane was ready to propose, but with no family heirlooms and limited funds, he didn't have the means to acquire an engagement ring. Despite it not being part of the original "Wedding In A Week" offerings, the boys agreed to help. After putting a solicit out on-air for anyone who might be able to help the cause, they eventually got a call from Secrets Shhh, who are renowned for their exquisitely irresistible jewellery and extensive array of engagement rings. They were keen to broker some sort of arrangement, and after some fast-paced bizness chats with the boys, they struck a deal. They were willing to offer up a free engagement ring, provided Will & Woody could make $20k worth of sales in-store at a Secrets Shhh retail store. It seemed like an excellent deal for both parties, watch below to see what transpired:
STEP 3: THE PROPOSAL
With the ring secured, it was Zane's turn to step up to the plate and ask the biggest question of his life! That's right, it was time for the proposal, which he agreed to do live on-air, a rather courageous move by the young man. And so the whole country waited with bated breath as Zane bent a knee and asked the the love of his life to marry him. She said yes, without hesitation, in what was a truly touching moment for the whole nation, who were starting to fall in love with the easy-going blondes with hearts of gold.
STEP 4: The Venue
Once the couple were locked in, the next step was landing a venue. With a little bit of budget up their sleeves, Woody shot for the skies, and contacted Fenix Events, a statement location with serious WOW factor. He secured the venue, but again, there was a price to pay! See below the bizness deal he agreed to, this time without Will's consent. Luckily for Woods, the venue turned out to be immaculate.
STEP 5: THE DRESS
Now it was the bride's turn to join in on the fun. The bridesmaids were assembled, and they met with the boys at Always And Forever Bridal, who were generous enough to offer up a dress for the momentous occasion, completely free of charge. And they gave the crew the royal treatment, with full dress fitting, champagne, and all the works. Not to miss out on the fun, they boys insisted on being there to help out. And you could perhaps say they got a little too involved. See below the madness that took place at the dress fitting! And like a feather in the wind, prepare to be blown away by the radiant beauty of these stunning wedding dresses.
STEP 6: The Wedding Day
With a lot of the primary pieces in place, all was left was the big day itself. The boys were racing the clock, and they again put the call out on-air to see if there was anyone else that was willing to offer their services for the grand finale of their 'Wedding In A Week' experiment. And there was no shortage of heroes that came to the last-minute rescue!
The lovely folk at Reignier Cakes provided a cake that was equal parts attractive and delicious.
A gorgeous array of flowers were provided by Debbie O'Neil, who curated a display that perfectly complemented the lush riverside surrounds.
The bride looked truly resplendent, largely due to the exquisite hair and makeup provided by Abby and Tayla Whitehorne.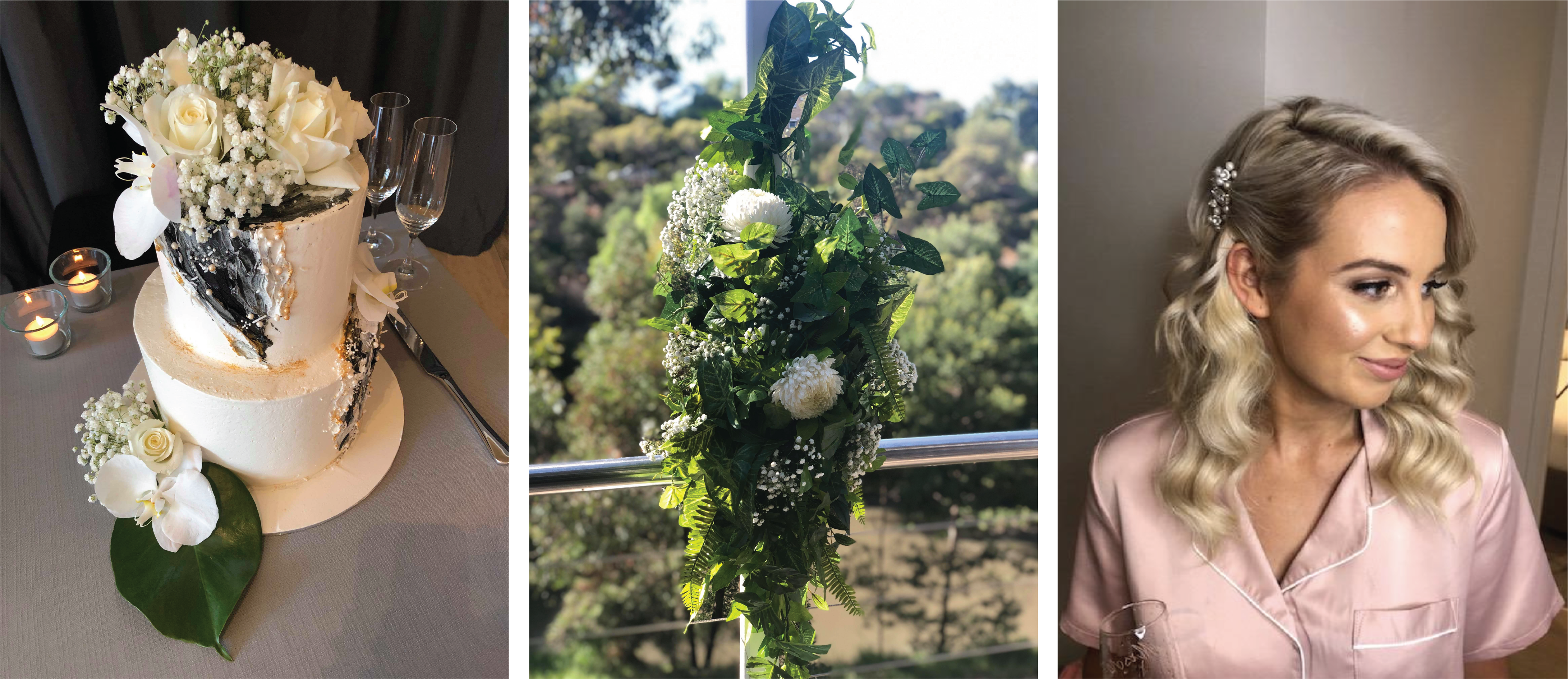 And day was wonderfully captured thanks to the elite photography skills of Euro Photography.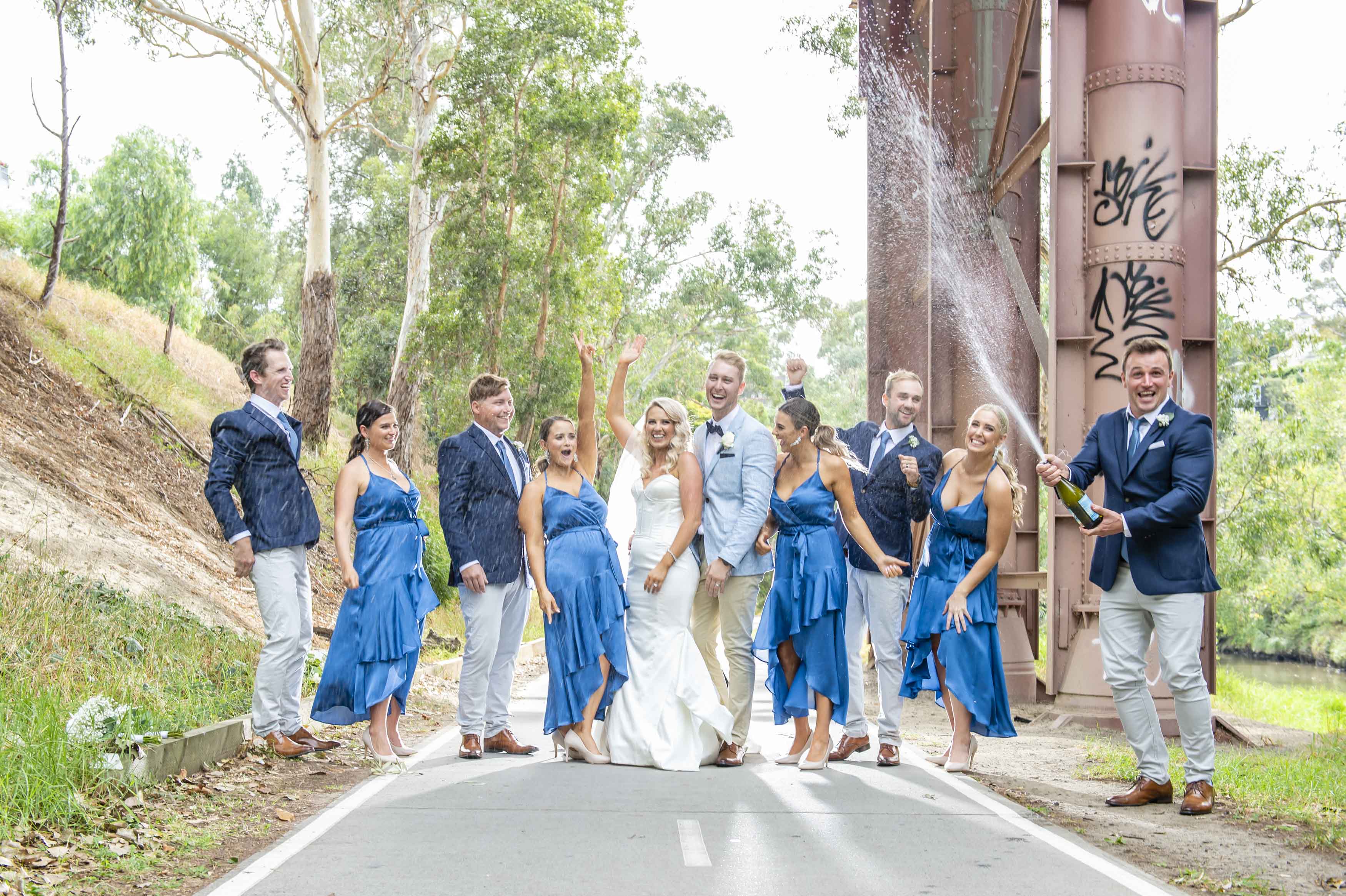 All in all, it was a crazy but amazing week. Huge thanks to everyone who played their part, and let's hope the "Wedding In A Week" business model takes off, so we can see you back here for more weddings in the future.
Catch Will & Woody for the drive home from 4-6pm weekdays

Missed Clairsy & Lisa? Catch up by clicking play below!