Opposition Leader Bill Shorten has taken to social media posting a picture of himself preparing lunch as it's back to school time.
But the picture is getting more attention than the wannabe PM would have expected after people spotted something in the background.
Taken in his kitchen, the picture shows Bill getting stuck into making lunch for his daughter Clementine with everyone's faveroute Vegemite getting spread generously onto some cruskits.
Mr Shorten has captioned the photo with the simple line:
Back to school means back to making school lunches.
But it's something in the background that caught our eye. Have you spotted it?
Take a closer look…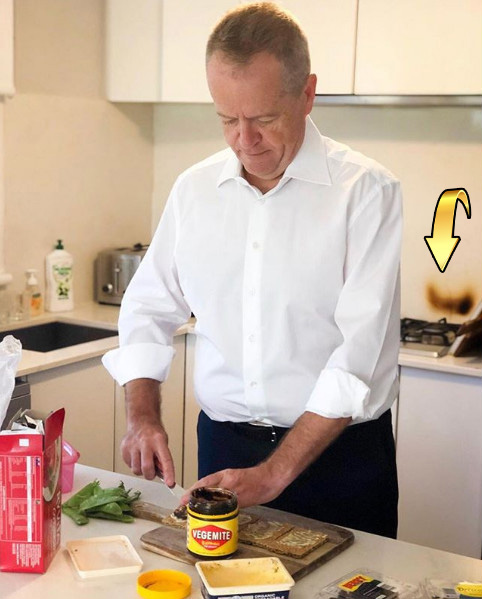 Yep, looks like someone in the Shorten household had a bit of a mishap with the stovetop!
It looks like the the wall has copped some heat recently, and now so is Bill!
People are now flaming him online with some classic comments!
"Bill..who the hell burnt the back wall of the stove?" said one
"good to see other people are capable of burning a kitchen wall like that" another commented
"This is what ours looks like too, the larger burner is at the back and when we use a large pan on it it touches the wall, the scorch mark has built up over time." sympathized another follower
Good to see Bill can have issues in the kitchen just like the rest of us!
Missed Clairsy & Lisa? Catch up by clicking play below!