We have been left shaking our heads after several cyclists have been spotted doing ludicrous things on our roads lately.
Firstly, bizarre footage was taken of two blokes in Macquarie Fields using their 'pushies' to move a COUCH!
Deciding to do it without a truck or ute (or more importantly helmets!) the pair held up traffic at a busy intersection near Campbelltown.
Meanwhile in Vaucluse in Sydney's east a man decided to tow TWO large suitcases behind his bike.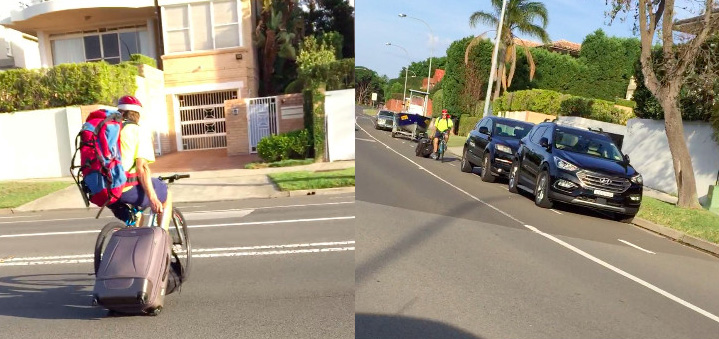 The guy was also wearing a large travel backpack as he joined onto busy New South Head Road, so good balance would need to be a prime concern.
Alex Barron told Yahoo7 News she was in disbelief over the man's actions as she drove passed him.
"He was struggling to get up the hill and was all over the place," she said.
"Once he joined the main road I was thinking he might cause something here."
A Traffic and Highway Patrol Command spokesperson told Yahoo7 News that the cyclist's actions most likely fell under the offence.
"Riders such as these pose a risk to themselves and other road users," the spokesperson said.
MORE: DRIVER WHO ABUSED CYCLISTS FOR TAKING UP ROAD FACES CHARGES
Missed Clairsy & Lisa? Catch up by clicking play below!