The Big Banana, the Big Pineapple, the Big Prawn… and now, the Big… Bong?
If one Aussie artist gets his way, a giant wooden bong would grace his hometown of Woodenbong.
Yes. There's a town called Woodenbong. It's in northern NSW.
Anyway, in a case of 'if we make it, they will come', bong-making enthusiast Paul Pearson reckons that a Big Bong would bring tourists to the rural community in droves.
"I believe people from all over the world share my dream," Mr Pearson said.
"I envisioned a giant wooden bong, taller than the Big Merino."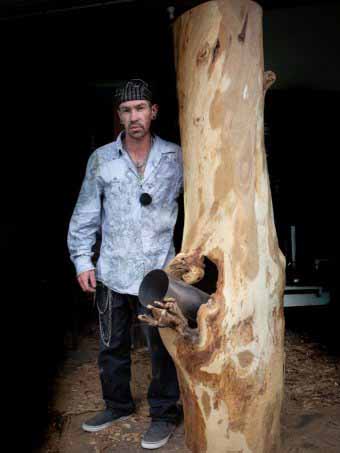 And while Mr Pearson has already made a bong that stands at 1.5 metres, he's hell keen to make an even bigger one.
"I've always had an interest in bong-making and art, I've been doing it all of my life," he told the ABC.
"I've made them out of dolls, plastic lobsters, vases, exhaust pipes, everything."
But when he moved to Woodenbong… he felt compelled to make, well, wooden bongs.
"Normally they wouldn't be made out of wood because of water rot," he said.
Mr Pearson has since launched a petition, which details the giant wooden bong with a tourist information centre underneath.
Pic credit: Samantha Turnbull