A recent price hike on tobacco has caused some Aussie smokers to take their frustration out on those who sell them.
From September 1, the tobacco excise increased by 12.5 per cent, meaning an average 20 pack now costs around $35.
Some packs of 25 now only get a buck or two change from $50. To put this into perspective, that a pack-a-day smoker would now literally burn through $12,500 over the course of a year.
Thing is, it's not just smokers that are copping it.
Supermarket employees have expressed their frustration on a recent Facebook thread that simply stated: 'It's a rough week to work the smokeshop'.
This was just a taste of the almost-450 comments: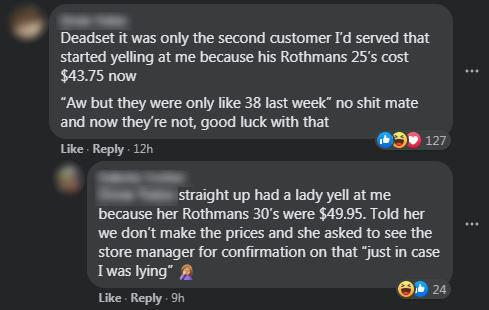 It was recently reported that four times as many smokers have tried to quit during the pandemic.
Hit PLAY below for one of our fave chats with Botica's Bunch this week!
Missed Clairsy & Lisa? Catch up by clicking play below!