Nobody plans to have a hangover, the evening just sort of gets away from you, especially this time of year.
And while the best way to avoid a hangover is to avoid drinking to excess (obviously), Aldi have got your back if those best-laid plans fail you…as they do so often this time of year.
Our German supermarket friends have are now stocking packets of 20 electrolyte tablets for just $5.49, which works out to be just over 27 cents per hangover cure!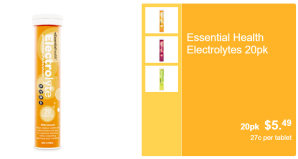 Okay, maybe not hangover cure, but electrolytes do seem to do a great job at pepping you up the next day by replacing the salt and potassium that your body loses by drinking.
We have a feeling there might be plenty of these making their way into people's homes over the next week or so. Of course like we said, the best way to avoid a hangover is to drink responsibly.