A mum from Sydney has divided the Internet with a risque gift for her son's 18th birthday.
The mum bought a $6 jar from Kmart and filled it with mini-bottles of booze, chewing gum, money and a variety of condoms: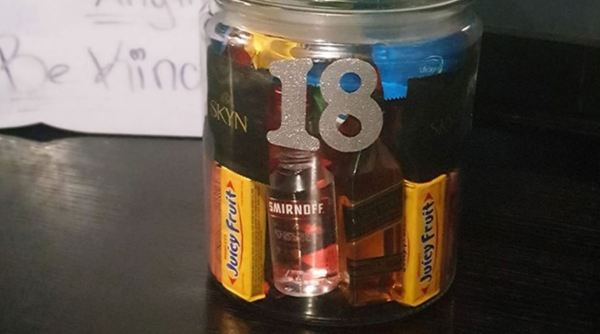 Some commenters thought it was inappropriate:
"You bought your son a variety of condoms for his birthday? Is it just me or is that weird?" one wrote – while another called it "distasteful".
However many others said it was a good example of common sense parenting.
"The condoms are a good idea. We have to teach them it's our duty as parents," one wrote
"Praise be to those parents who promote safe sex to their kids instead of making sex a taboo subject," another woman wrote.
"So important that young men learn that contraception is their responsibility and their right too."
Missed Clairsy & Lisa? Catch up by clicking play below!