You can never win over all your bridesmaids on your big day..
But while most will just take what they are given, one bridesmaid has uploaded a photo of her outfit given to her to Reddit thread 'Awful everything.
And she compared to being dressed as a 'bin bag'.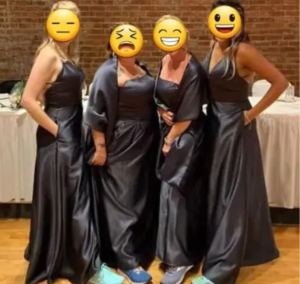 The bridesmaids in the photos are also wearing runners, which are blue for the 'something blue' aspect of the wedding.
One commentator did say there was one redeeming feature, "The pockets are the only redeemable thing I can see here."
Other than that, there's not much to like, it appears.
Missed Clairsy & Lisa? Catch up by clicking play below!