A baby has been left looking like Homer Simpson after his freshly fake-tanned mum breastfed him.
Keziah Jozefiak had applied her Bondi Sands before heading out for a Valentine's Day dinner, when 5-month-old Raf woke up hungry.
Without thinking twice, Ms Jozefiak picked up her boy and breastfed him, no big deal.
After Raf was done, his mum realised that the fake tan had formed a big brown patch around his mouth.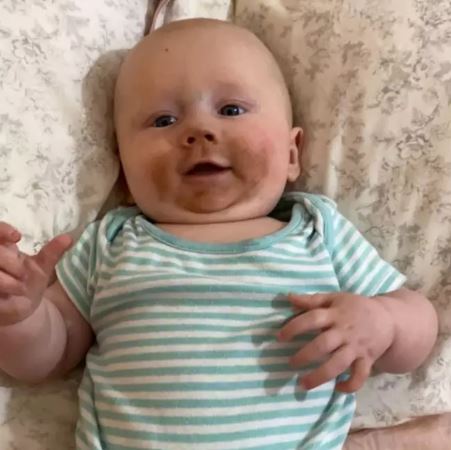 "When I looked down at Raf I just burst out laughing," she said.
"I couldn't believe the tan had left his mouth looking like Homer."
She added that it was the first and definitely the last time she feeds him with fake tan on.
"It hadn't actually occurred to me that the tan could transfer onto him."
Photos sent to family and friends made it onto Twitter, where they've been liked more than 100,000 times.
It took Ms Jozefiak about an hour to get the tan off Raf's face.
"I used baby oil and baby wipes and he looked shiny and clean after. Fortunately, Bondi Sands tan is really good for your skin."
Missed The Bunch with Clairsy & Lisa? Catch up by clicking play below!