We were massive fans when Coca-Cola decided to release a vanilla version.
We were even OK with the new Raspberry Coke.
But their latest infusion is so random that we're not sure how to feel…
Over in the UK, Coca-Cola is introducing a new Christmas flavour to their No Sugar range and it's surely going to divide fans.
So what's the latest fizzy flavour? Get ready for it…CINNAMON.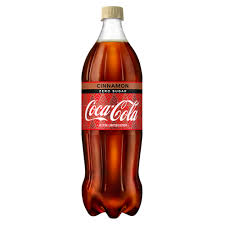 Cinnamon Coca-Cola will be available in 500ml or 1.25 litre bottles later this week over in the UK.
"Since launching Coca-Cola No Sugar, we've introduced an exciting addition of new flavours to the range," they said.
"For a limited time only, we are excited to announce the launch of Coca-Cola No Sugar Cinnamon, that we hope our current fans and those looking to try a new flavour will love. It's a drink full of festive flavour and no sugar, perfect for the lead-up to Christmas."
And while we're sure a lot of people might not feel too keen to try it, for those that are thinking, 'this sounds DELICIOUS!' we have some rather bad news…
Speaking with News.com.au Coca-Cola Australia have said that they don't see Cinnamon Coke entering the Aussie market anytime soon.
"We are always responding to people's changing tastes and preferences and we regularly introduce exciting new flavours in Australia such as Coca-Cola Orange No Sugar which is available now," said a spokesperson.
"There are currently no plans to introduce this flavour here."
So if you've got a hankering for a spicy flavoured coke, well at this stage you'll have to purchase a plane ticket to give it a taste. Otherwise you'll have to just settle with quenching your thirst with a normal Coca-Cola.
In related news, find out why Perth people are hoarding slabs of Coke Zero as supply dwindles