"There's been some confusion, but so much excitement."
The manager of a new fish and chip shop in the UK has described its opening days.
Why?
Oh, it's because it's a vegan fish and chip shop.
Yes. So, there's no fish in their 'fish'.
Manager of Sutton and Sons, Adrianna Bonesso, said they were driven to open the shop after working at a traditional 'chippy' just up the road.
"When we put vegan options on the menu of our other shop, there was so much demand we could hardly keep up," she said.
"We needed to open another shop."
So if the 'fish' isn't fish, what the hell is it?
According to the owner, Daniel Sutton, it's mostly banana blossom, which he came across at a Vietnamese market.
He found that marinating it with seaweed and a salty coastal plant called samphire gave the blossom a taste resembling battered fish.
Their 'prawn' cocktail, made from Japanese potato, is apparently so similar to the texture of an actual prawn, a customer approached the manager to confirm it was vegan.
But what does it taste like?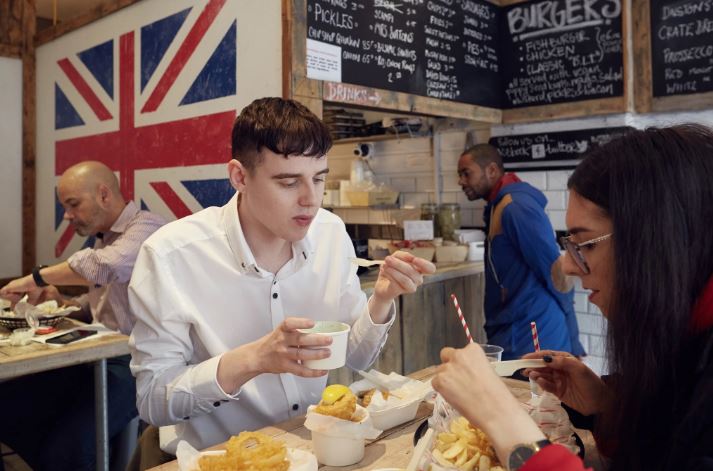 Customer, and vegan, Edward Dos Santos said the 'fish' tasted just like artichoke.
"Delicate slices of artichoke. It's really delicious," he said.
But of course, this is 2018. So not everyone is happy about it.
Some have criticised the shop for advertising 'fish' when it ain't fish.
Complaints haven't been limited to passers-by either.
Ms. Bonesso said the local council have warned that some items on the menu were misleading.
"We are working on new names," she said.
"Maybe vish for fish."
New York Times
CHECK OUT HUNGRY JACK'S NEW VEGAN CHEESEBURGER
Missed Clairsy & Lisa? Catch up by clicking play below!