A fish shop has reportedly been shut down for sticking googly eyes on fish to make them appear fresher.
Pictures of the 'fresh fish' were shared on social media by local newspaper Al Bayan.
And they're hilarious.
The eye can be seen slipping off the fish's face, clearly showing a much less cartoonish, less fresh and much more yellow eye beneath.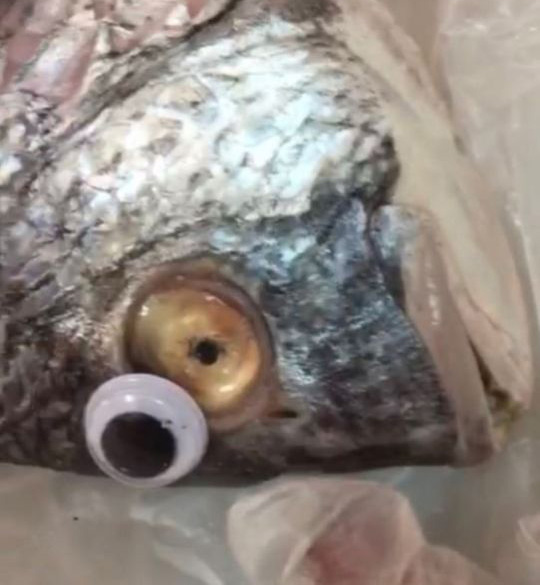 me when i take off my eye mask after waking up for work and realize that i have to be alive and functioning in the world in less than an hour pic.twitter.com/IW8NSpn2Pb

— modest louse (@prinsessidiot) September 2, 2018
Someone brought this idea up to their boss—
"But hear me out, what if, we put googly eyes on the fish to make them seem more fresh"
"Dammit Patrick, that's a damn fine idea" https://t.co/UiMi5llMyb

— sobersanders (@sobersanders) September 3, 2018
The legal debate over the "law against putting googly eyes in fish to make them look fresh" is the Python skit we never knew we were missing.

— Deborah Mullins (@Deb60641) September 3, 2018
The story about sticking googly eyes on fish is so amazing that I'm thinking of getting some googly eyes to wear in to work on Mondays.

— LaLaLatte (@captainlatte) September 2, 2018
Kuwait authorities shut down a monger who stuck googly eyes on old fish to make them appear fresh. He thought it would work since the local Build-A-Bass store was successful.

— Emily Rosenberg 🍫 (@ilyEmbergRosen) September 2, 2018
Now I gotta be checking for stick on googly eyes when I go to buy fish

— Dahlpourie Deity (@Trinidread) September 1, 2018
Missed Clairsy & Lisa? Catch up by clicking play below!