Hungry Jacks have announced they are releasing a 'revolutionary' new frozen soft drink.
They are called BURSTIES.
Customers will now be able to mix popping bubbles into their frozen favourites.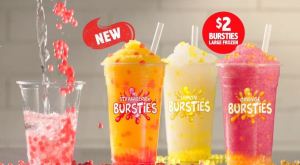 The drink will create a similar product to bubble tea and is using similar techniques found in in molecular gastronomy, the Bursties feature a gluten-free coating that encases juicy fruit flavour, releasing a burst of fruitiness in every pop!
They are being priced at $2, with the option to add extra Bursties for $1
Missed Clairsy & Lisa? Catch up by clicking play below!