We've seen an array of hot cross bun alternatives from cronuts, croissants to vanilla slice but now they've made a hot cross bun beer… and, not gonna lie, we're curious.
Pirate Life's limited edition Easter beer has just been released and they've labelled it a 'pastry stout'. Ooh yeah.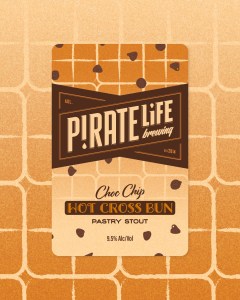 "We took ingredients from one of the nation's most beloved Easter treats and threw them into a beer," the brewery says.
It's brewed with a blend of malted barley, oats and wheat. Alongside orange zest, jujube syrup and spices to capture the taste of freshly baked hot cross buns.
To top it off, it has cocoa and lactose to get that oozing choc chip flavour.
Pirate Life said, "It pours black with a tan head of foam. Expect aromas of cinnamon, raisin and treacle. On the palate, ristretto coffee pairs with notes of dried fruit, allspice and ganache. It's deep, doughy and decadent."
You can grab one of these beauties online, from selected stockists or head to the Pirate Life brewery (and yes, they're open over the long weekend).
Get all the info on their Facebook Page.
Missed The Bunch with Clairsy & Lisa? Catch up by clicking play below!