If there wasn't a democracy sausage at your polling place, was there even an election?
Next to the Bunnings sausage, it's is one of the most recognised and, as it's only cooked up on polling day, the democracy sausage is one of the most anticipated slap-up snacks in Aussie culture.
As DemocracySausage.org states: "It's practically part of the Australian Constitution."
2016 was the year when things really took off for the snag, not only was it the Australian National Dictionary Centre's Word of the Year but in the 24 hours leading up to the July 2 federal election, Twitter changed its emoji for #ausvotes from a ballot box to a sausage lying on a slice of white bread topped with sauce.
But there was a time when the humble snagger wasn't so respected around election time.
In 1989, the Labor Party in WA was accused of using sausages as a delicious ploy to bribe voters in a 'free family sausage sizzle' held a week before the state election.
Peter Dowding, the premier at the time, was actually forced to deny the accusations and the police investigated whether the sausage sizzle breached the Electoral Act.
It didn't end there.
During the same electoral campaign, opposition leader Barry MacKinnon was photographed wearing a barbeque hat and apron… and was therefore, according to Mr Dowding, "involved in the dissemination of sausages".
Section 182 of the Electoral Act says bribery "includes the supply of food, drink, or entertainment after the nominations have been officially declared."
However, it also includes the "horse or carriage hire for any voter whilst going to or returning from the poll, with a view to influencing the vote of an elector."
Dowding later argued that he had not tried to bribe voters with free snags and, after a police investigation, he was absolved of any wrongdoing.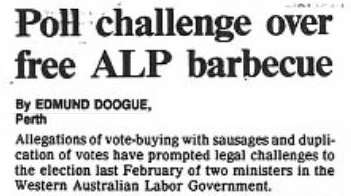 Since then, the Electoral Commission decided that "the dissemination of sausages" was not a bribe under the Act.
Sausages are deeply entrenched in our political history, but if you'd prefer one with far less baggage, there's always Bunnings.