Excuse me Uncle Tobys! Since when were you in the oat milk game and why didn't you do this years ago?
With over 125 years of 'oats-pertise', we already know their muesli bars are God-tier so we can only imagine how good their oat milk will be.
Uncle Tobys have launched three new oat milks made from 100% Aussie oats including Uncle Tobys Oat Milk, Barista-Style Oat Milk and Oat & Almond Milk.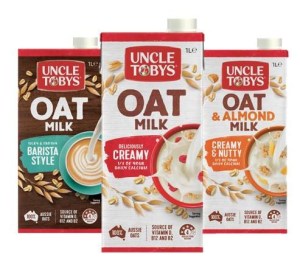 The new range is vegan and contains one-third of the recommended daily calcium and vitamins D, B12 and B2 to help you claw your way through the day.
They're at Coles and independent supermarkets for $3.80 and $4.50 for the barista-style.