Panic buying toilet paper is now so hot, it's the top trending thing on Twitter.
Despite authorities warning that this level of stockpiling is completely unnecessary amid the coronavirus outbreak, empty bog roll shelves continue to flood our newsfeeds.
And social media is having an absolute field day over it.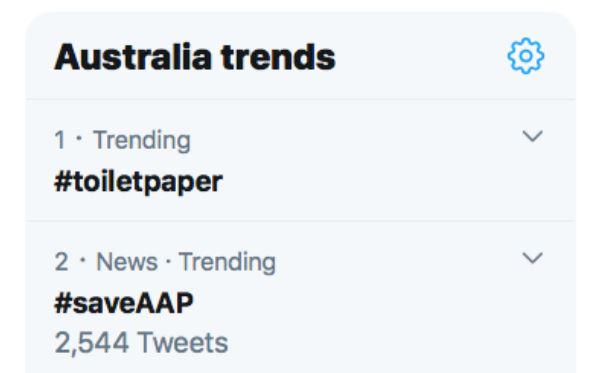 Meanwhile in back alleys across Australia: Psssst, hey you! You wanna buy some two-ply? #toiletpaper

— Daniel Almond (@Almond87) March 3, 2020
I've had a gastric bug for about a week and a half. On antibiotics. Symptoms are…what you'd expect. But because of #CoronaVirus people are stockpiling #toiletpaper.
I want to shout "stop buying so much toilet paper! I genuinely have a dodgy bottom!!!"

— MrOzAtheist (@MrOzAtheist) March 3, 2020
Are they planning to eat at Taco Bell ? 🤔 #coranovirus #COVID19 #CoronaOutbreak #panicbuying #sydney #toiletpaper #Australia #coronavirusaustralia #coronavirususa #CoronavirusOutbreak pic.twitter.com/UhpHSj2gHz

— Scarlett cooper (@scarsparkles) March 3, 2020
I was sent to a Costco to see if people are stocking up (even though health officials say it's not necessary) in case COVID-19 gets more serious here. This guy came out of the store with 16 boxes of condoms and a big jar of coconut oil. We all have priorities. pic.twitter.com/C3edUsgZzH

— Jill Bennett (@jillreports) February 29, 2020
If you are one of the people who has panic-bought a 6-month supply of toilet paper I think you should go home and look at your enormous pile of toilet paper and think about what you've done.

— Adam Liaw (@adamliaw) March 3, 2020
My local supermarket – all other shelves full – what is it about toilet paper?? Why are we choosing this random item to stockpile?? pic.twitter.com/bX3smAtLXk

— Jennifer Anne Hollamby (@anne_hollamby) March 3, 2020
Only one word to explain this… #idiots#coronavirus #toiletpaper pic.twitter.com/J8U3EZLYYS

— Bewitched Angel & Katherine Quirke Photography (@abewitchedangel) March 3, 2020
The world's gone mad! 3 supermarkets – no toilet roll! Last I heard #coronavirus causes a flu-like illness not wild, explosive diarrhoea! 😳Scored possibly the last pack in the whole of Brisbane! Might put it on eBay! 😂 #panicbuying #coronavirusaustralia #toiletpaper pic.twitter.com/rDUQ4Avv1B

— Anne Stubbs (@annestubbs) March 3, 2020
Has the world gone mad. Coles Donvale. I didn't know corona virus causes explosive diarrhoea 🚽 #coronavirusaustralia #toiletpaper pic.twitter.com/O0PuUEotaT

— jason taylor (@jasemtaylor) March 3, 2020
I've got a 9 pack that I'll sell to the highest bidder. It's 3 ply and very soft. I need a house deposit so start high. 😀 #toiletpaper

— Peter (@burtpies) March 3, 2020
Current state of shopping in Australia #toiletpaper #coronavirus pic.twitter.com/de3yeptjMo

— Ben Shute (@Ben_Shute) March 3, 2020
Missed Clairsy & Lisa? Catch up by clicking play below!