Mums have complained of greedy Aldi shoppers after this week's special buys sold out in seconds.
Aldi's new buys this week included cloth nappies from Aussie brand Bare and Boho.
The nappies usually cost $34.95 but were today selling for just $14.99.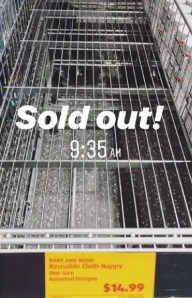 Within minutes, customers were complaining they hold sold out, with one woman taking to Facebook saying "one lady took off with every one of them"
"I called my Mum in Brisbane and was upset that I missed out and so did so many other mums, we all just watched her walk away with them," she wrote.
The woman then said her "ruthless" mum went into her local Aldi store and "scooped up the lot".
"(My mum) then handed them out evenly to all the mums who were there so no one missed out," the woman wrote.
Another chimed in saying it was "crazy" at her local store.
"People were running, pushing, screaming," she wrote on Facebook.
"I wasn't after cloth nappies so I was just happy to stroll in and stand back while they all fought to the death.
"One lady even tried to steal some out of another ladies trolley. It was madness."
Another commenter said they were at their local store just 15 minutes after it opened and "the guy said someone bought the lot."
Bare and Boho have since said they had "massively underestimated the demand" and their "minds were blown by the interest".
Missed Clairsy & Lisa? Catch up by clicking play below!