With more of us ordering online due to the government imposed Coronavirus directions, some people have started complaining about their Kmart orders arriving broken.
Hundreds of shoppers have taken to Kmart Hacks & Decor Facebook group, posting photos of pots and vases that have broken.
One person said that they had ordered some pots and all of them arrived damaged, saying on the group "I have brought pots and other fragile items from other places and I receive them totally undamaged, order 4 pots from Kmart and they are all SMASHED!
"I even thought ahead and ordered 8 outdoor cushions as well, thinking they could wrap the pots well and place them in between the cushions.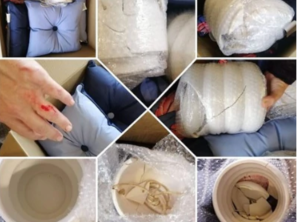 'However, they barely wrapped the pots and just dumped them in the box. Yes I will be contacting Kmart."
Kmart has apologised saying "Where possible, online orders are packed appropriately for delivery," a spokesperson said in a statement.
"However, on occasions, items are packaged incorrectly and in transit they can become damaged."
They went on to say "We apologise for any inconvenience caused to our customers and we encourage anyone who received a damaged parcel to visit our website at Kmart.com.au and submit a damaged order: bit.ly/Kmart-Feedback," the statement said.
"Alternatively, any damaged, faulty or wrong products can be returned to their local Kmart store, along with a copy of your tax invoice, for a refund'
Missed Clairsy & Lisa? Catch up by clicking play below!