A bloke is getting absolutely dragged after his Tinder bio made the rounds on social media.
Kirk, 27, made quite the first impression by posting a profile picture of himself, a bathroom selfie, with his pants around his ankles.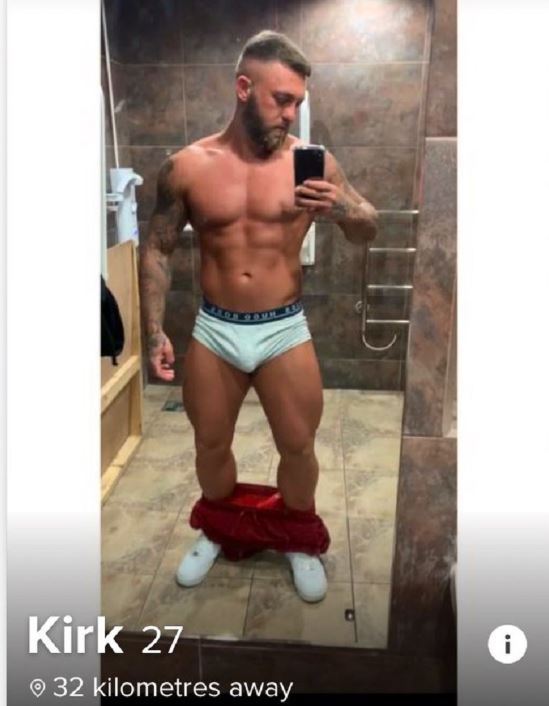 And really, he should've just stopped there.
But no, what followed was a bio that had some women preferring to 'die alone as a crazy cat lady'.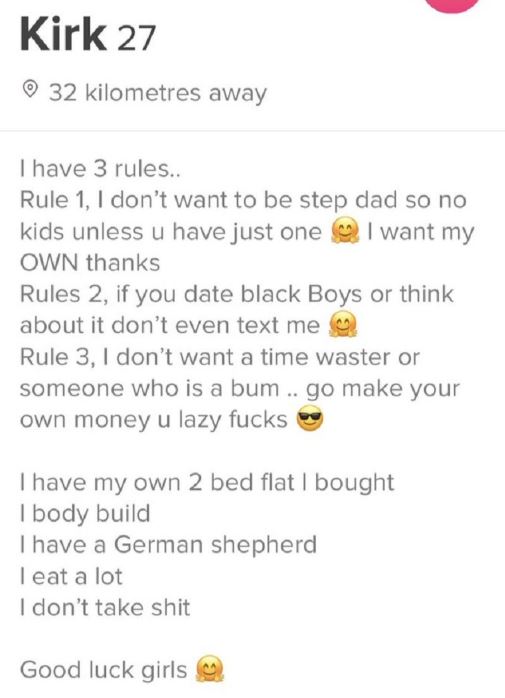 It wasn't long before Kirk ended up with his pants down all over Twitter…
I thought I'd give Tinder a go but honestly, it's fully put me off dating. pic.twitter.com/24Q1334yx2

— Trash Queen ✨ (@zxox32) April 4, 2019
HIS PANTS ARE BY HIS ANKLES omg fully no fuck off https://t.co/PYtlStfn5x

— Sorcha Ní Nia (@Luiseach) April 6, 2019
There's a fuckload of stuff to unpack here, so allow me to summarise:

Pros:

– Own flat
– Dog

Cons:

– Massive racist
– Literally everything else and holy fucking shit what is he doing with his pants https://t.co/g9ENIyBHkf

— Max 🏳️‍🌈🧜🏿‍♀️ (@SpillerOfTea) April 6, 2019
I'd rather die alone as a crazy cat lady. https://t.co/U20QyAG3sR

— Sara 🍜 (@WhatLastsLasts) April 6, 2019
I'm going to screen shot this for when my relatives ask me why I'm still single

— Nikki Elizabeth (@peaceluvgators) April 6, 2019
Dear men,
This is Kirk.
He a narcissistic, racist, misogynistic, delusional muscle head

DON'T BE LIKE KIRK. https://t.co/FpsgNNWHQY

— The_Real_Nubian *LupitaStanAccount (@1981_mad) April 6, 2019
how do i delete my sexuality https://t.co/mogvo61Jt5

— merk. Ⓐ☭🏴 (@merkseyside) April 7, 2019
Kirk looks like he should be signing some sort of register.
What an absolute parcel. https://t.co/kz5mqbJeGY

— Twinks (@tinytwink) April 5, 2019
Oh Kirky Kirky Kirky…you're never gonna get a girlfriend son. https://t.co/VLwKLetvUJ

— Scot Williams (@scotwilliams) April 6, 2019