It's one of the few sporting events where everyone's an armchair expert – for about three weeks, anyway.
So we cherry-picked only the wildest 10 facts about the Tour de France, you know, so you'll totally look like you know what you're talking about around that water cooler.
Did you know that…
During each stage of the Tour, the average cyclist will burn around 4-5000 calories – which is about 123,900 calories for the entire race, the equivalent of 220 Big Macs.
2. Until the 1960s, it was common for cyclists to drink booze during the race to numb the pain. It was soon banned because it's considered a stimulant.
3. Over the course of a Tour de France, cyclists will sweat enough to flush a toilet 39 times.
4. More than 12 million spectators line the route every year and 3.5 billion who watch it on the telly, making it the largest sporting event in the world. It's bigger than the Super Bowl and the Olympics.
5. On rest days, most Tour cyclists don't rest – they ride for at least 2 hours to flush out lactic acid from building up in their muscles and to keep themselves focused.
6. The peloton uses about 800 tyres over the 3-week race.
7. The winner of the 1947 Tour de France, Jean Robic is said to have taken on a lead-filled water bottle at a mountain summit so he could descend faster.
8. The first Tour winner was Maurice Garin. He won again in 1904 but was later disqualified for cheating. He was caught taking a train to victory in the Alps.
9. The fastest average speed in the Tour was 57.7 km/h, set in 2005. In 1919, it was just 23.6 km/h.
10. Dieter "Didi" Senft, otherwise known as 'Didi the Devil' or 'El Diablo' has been rocking the devil costume at the tour since 1993. A German cycling fan, Didi the Devil has been an icon of the tour, building up his own following of fans over the years.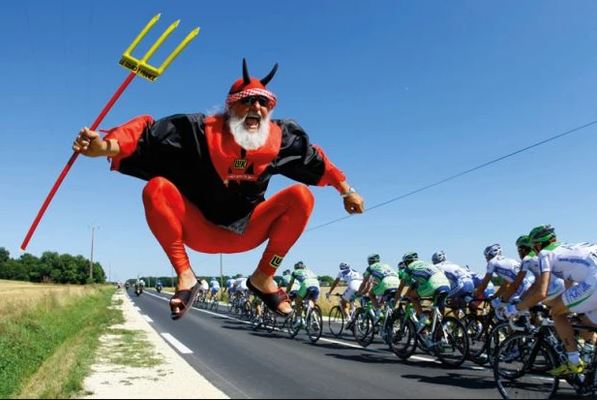 But we want to do better than just giving you some wild facts – we want to send you there as part of 96FM's Tour de Europe!
Firstly, you and a mate could be heading to Belgium to see

Sir Paul McCartney

,

Crowded House

and

The Killers

at the TW Classic.
We're then going to send you off to Copenhagen to see the legendary

Eric Clapton

live in concert before heading to Hamburg to rock out to

Lenny Kravitz

.
You'll then round out the Euro trip in Nice for the second stage of the

Tour De France

, VIP-style!
Oh, and we'll also thrown in

$10,000

!
Missed The Bunch with Clairsy & Lisa? Catch up by clicking play below!