It's a case of déjà vu for Adventure World with their Family Friendly Dress Code again doing the rounds.
On Friday, Perth's most trusted news hub, The Bell Tower Times, posted a screenshot on Friday which detailed the code, which looks like it was part of a newsletter to guests.
"As of this coming weekend, Adventure World will commence applying a Family Friendly Dress Code what will mean the wearing of G-Strings, V-Strings and similar style bathers will not be appropriate anywhere in the park," CEO Andrew Sharry's note to visitors read.
"We hope to avoid the inevitable moment when guest who are not meeting the dress code are asked to do so."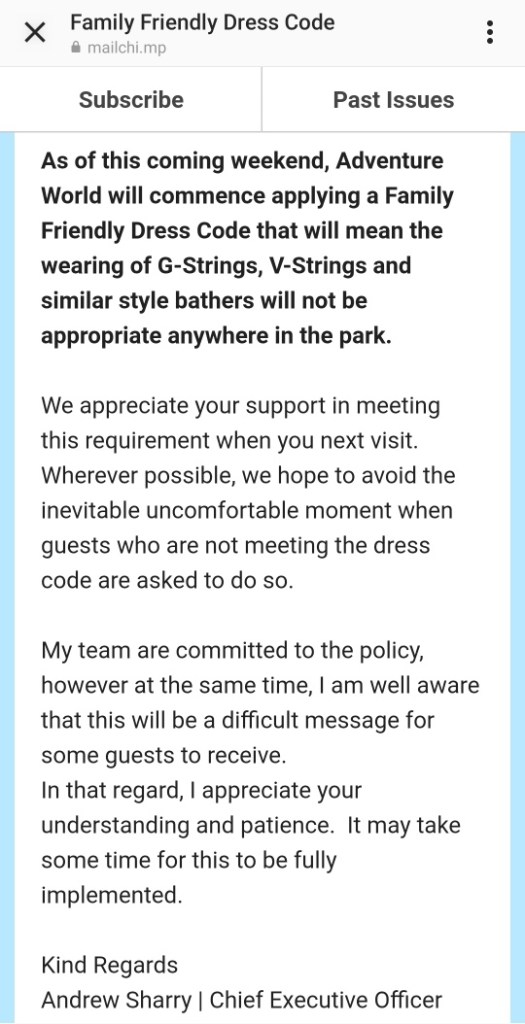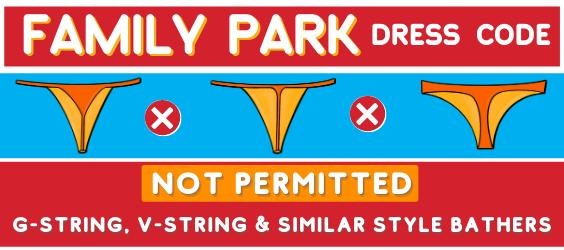 It's not the first time that Adventure World has made waves over their dress code.
In 2019, the park posted its policy in a social media post reminding visitors 'Don't Be Too Cheeky', which copped thousands of comments, both supportive and critical of what the park deemed 'appropriate swimwear'.
Here were some from the time:
"How about stop sexualizing women? We don't sexualize shirtless men and that's way more skin exposed."
"i kinda get super small thongs but the first one is like 90% of swimsuits. Like they want you to buy a new swimsuit just to go ?"
"Sweet, start telling men to cover up too thanks. No child wants to see Darrens beer gut."
"Ban speedos too then"
"bro what store even sells full coverage bottoms like that in 2019"
"Thanks for policing women's bodies Adventure World 🙏🏽 Now where's the men's version?"
"I think that's fair.. As they say its a family park. And to be honest if they want to go toooo skimpy go to the nudist beach."
"Totally agree it's a FAMILY water park!!!!"
And we had totally forgotten about this perfect comment:
"After water slides.. 3 and 4 turn into 1 and 2."
Missed Clairsy & Lisa? Catch up by clicking play below!