Member for Armadale Tony Buti seems to have taken a proactive 'kill 'em with kindness' approach over negative attitudes towards his electorate.
In a letter to locals, Mr Buti expressed his pride and commended their strong sense of community and mateship however was disappointed with its unfair misrepresentation.
"While we have a great sense of humour here in Armadale and can enjoy jovial banter, the constant degrading of our community and place is tiresome and misplaced," he wrote.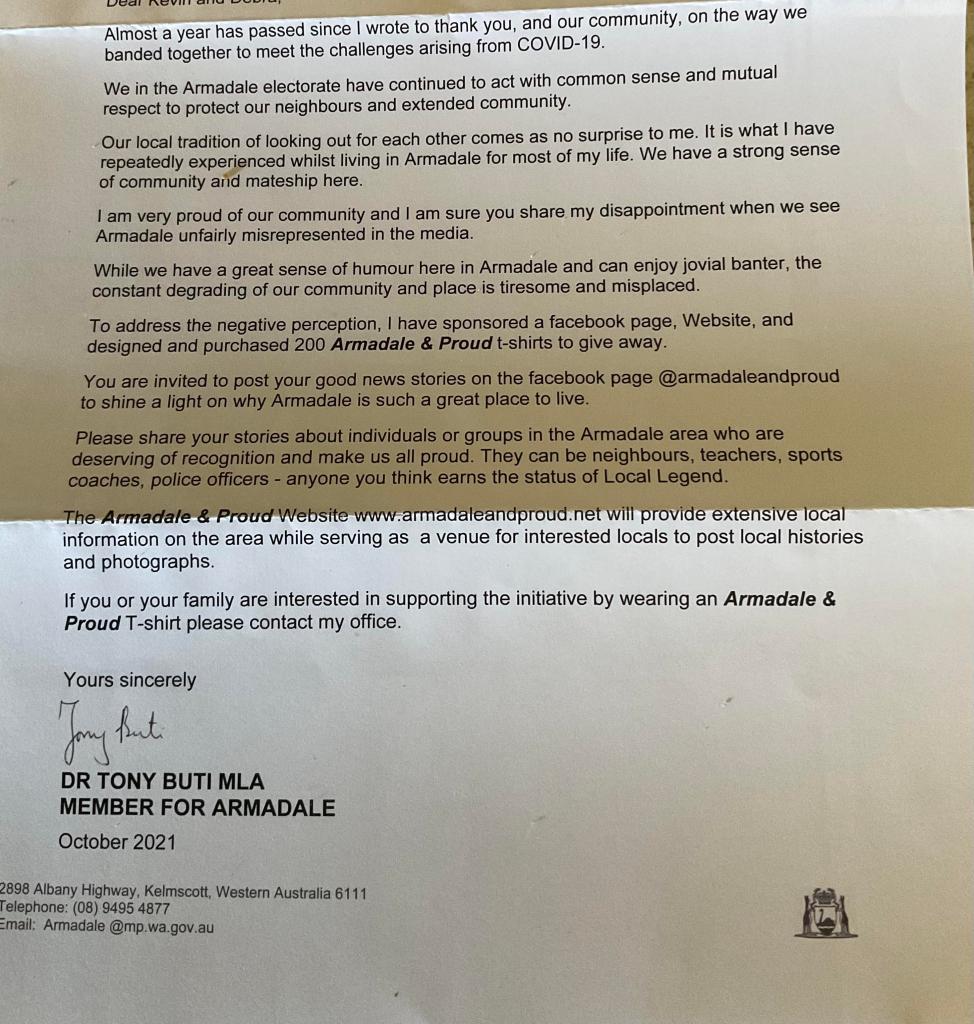 Earlier this week, Armadale took out sixth place in a recent poll by satirical suburb-ranking site, Sh-t Towns of Australia.
Mr Buti had told The West he didn't believe the 'award' was a true reflection of Armadale.
"Obviously, I reject this award," he had said. "There are certain parts of Armadale that have special challenges, but there are other parts that anyone who came out would say, 'Gee, I wouldn't mind living here'."
But instead of just waxing lyrical about it, Mr Buti has informed his constituents that he has set up a Facebook page and website to "shine a light on why Armadale is such a great place to live."
Mr Buti has even created 'Armadale & Proud' t-shirts.
He's already given 200 shirts away and they're so popular, he's had to order more.
Online, the idea is getting nothing but praise.
"I think it's a great initiative and while it's easy to be a smart-arse cynic, Tony Buti is a man who genuinely acts as he talks. He went to local schools, studied at Oxford and Yale and still lives in Armadale," one said.
"In all seriousness though good on him. Trying to pull up the quality of a suburb to help those within. Armadale definitely has people who could benefit from his input and if that improves the suburb as a whole then good luck to him," was another.
Missed Clairsy & Lisa? Catch up by clicking play below!