The West Australian government is urging parents to keep their children home as of next week if they can access online and other learning resources, as major changes to the public education system are planned during the coronavirus crisis.
So what does it all mean?
WA Education Minister Sue Ellery spoke to Botica's Bunch to clear up exactly what's going on, now that there's two weeks of the term remaining.
"Mark McGowan is calling on parents to pull their kids out of school if they're able to keep them at home, not everybody can, so what are the plans for these next two weeks until school holidays start," she said.
"We do recognise that not everyone can because they need to continue to work and we want everyone with a job to keep working for as long as possible."
Next week:
If you can – keep your kids at home
If you can't – they can attend school and they will be taught
The following week:
If you can – keep your kids at home
If you can't – you can send them to school where they will be supervised, not taught
Children will only be supervised "so that teachers and school staff can plan for what education will look like in Term 2 and beyond," Ms Ellery said.
Lisa chimed in that people talk about homeschooling but that not all of us are teachers.
Ms Ellery said the Learning At Home portal was already up and running on the government website, which provides more than 250 resources to parents.
"We're not expecting parents and family members to become instant teachers," she said.
"But there are resources to keep your kids active and out of your hair for a bit and they're appropriate for the different age groups."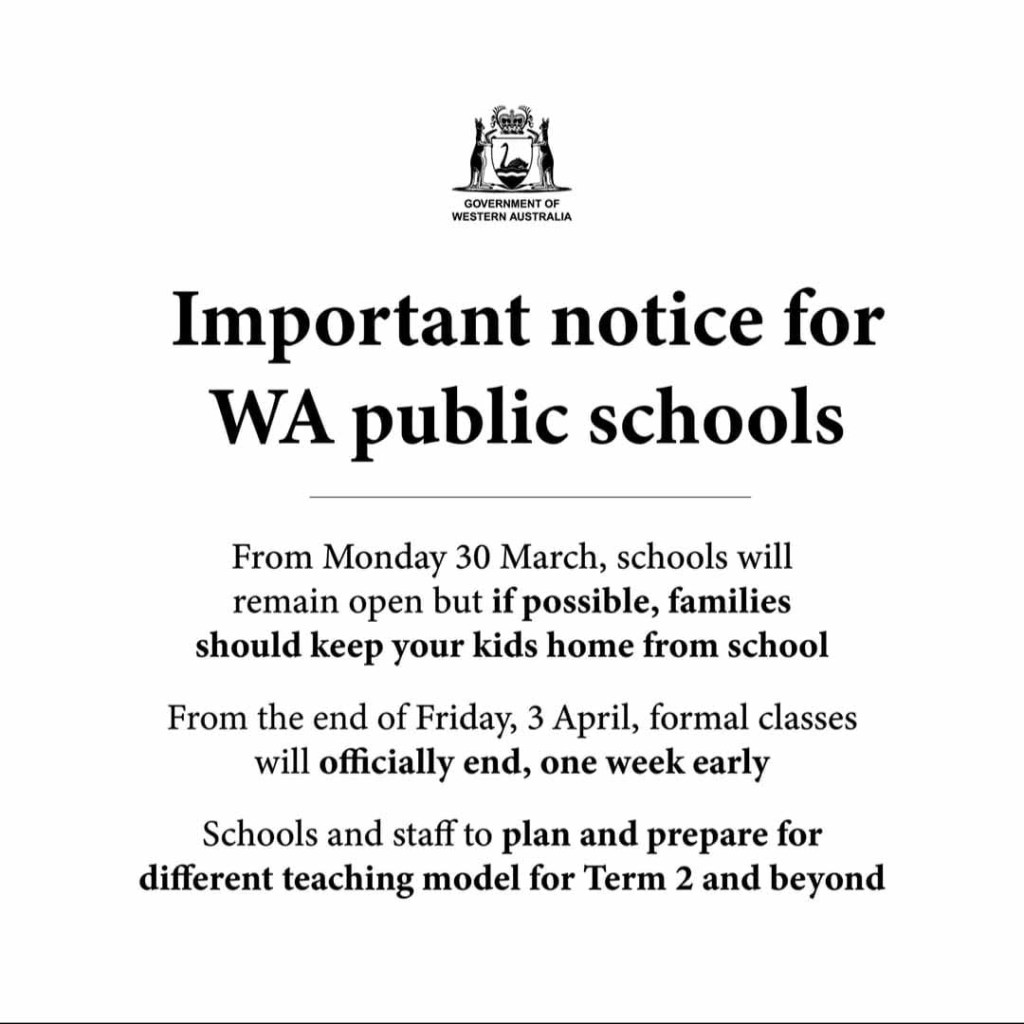 But Will The Year 12 Exams Be Cancelled?
There's no doubt that the end-of-year exams are under a cloud.
"That's the group where we have the shortest amount of time to deal with," Ms Ellery acknowledged.
She said that if children were in years such as Year 3 or Year 5, for example, and have a bumpy year, they can make that up the next year.
That's simply not the case for Year 12, who leave school around the end of October.
"We're preparing packages now for each of the Year 12 courses – they will be completed by Monday," Ms Ellery said.
"We have special arrangements put in place, they will be the first group to get, if you like, 'Virtual School', we will focus on them first."
She stopped short on cancelling exams.
"We're going to not make a decision on cancelling exams until we absolutely have to," she said.
"We want them to focus on completing their coursework for as long as they can, our system will be dedicated to them as priority students."
Ms Ellery said that if it got to the point of needing to cancel exams, or a rescheduling to later in the year, they would do that.
"If we need to cancel, the plan would be that no student will be disadvantaged," she said.
"We'll work out a way to take into account the work that they've done to date."
Keeping A 'School Day' Routine At Home
Lisa asked Ms Ellery about maintaining a regular 'school' routine at home.
"You know, getting them up in the morning get them dressed in uniforms so they can have their 'school day', as such, at home."
Ms Ellery recalled a conversation she had a fortnight ago.
"When someone first suggested that to me, two weeks ago, that we have kids at home in their school uniforms, I thought 'that is just bizarre', you know, what a stupid thing to be asking me about!" she said.
"Two weeks later, I am thinking, actually, that makes perfect sense."
"Kids love routine!" Lisa added.
"Yes," Ms Ellery said. "And they want boundaries and they want things to be certain."
Hit PLAY to listen in to the full chat:
Missed The Bunch with Clairsy & Lisa? Catch up by clicking play below!