The normally unshakeable Premier was tested on Monday morning after a presser was crashed… by a fricken noisy crow.
Even more appropriate, it happened at the exact moment he was talking about gun laws.
"I'm sorry," McGowan laughed as the crow, um, crowed, "Can someone deal with that?"
"Speaking of shooters…" Seven News journo Geof Parry could be heard off-camera.
"Where are they when you need 'em?" McGowan laughed again.
Usually when there's a noise like a truck, an alarm, or a crow, everything stops until the noise stops, so there's nothing unnecessarily distracting when you're watching or listening to the news report. So, McGowan naturally stops and waits for the crow to calm down.
After a few seconds, he says "OK, we good?"
We were not good.
The crow fired up again, to which McGowan promptly named him.
"His name's Clive," he laughs.
The media pack tried to push through the interruption, but the crow just woudn't let up.
Clive was daring McGowan to not lose his train of thought, and he was clearly starting to derail.
"We're not going to water down gun laws…" McGowan began while, off camera, Parry tried to shoo the crow on by way of tossing a pen into the air.
Clive loudly protested.
"Did you kill him?" Mr McGowan asked Parry. "Oh, you didn't kill him? Alright, OK… that was a good throw, bloody accurate."
Mr Parry could be heard later saying he "missed by a mile".
Meanwhile, Mr McGowan said he might start wearing a bandanna after learning a Scarborough man had his face tattooed on his leg over the weekend.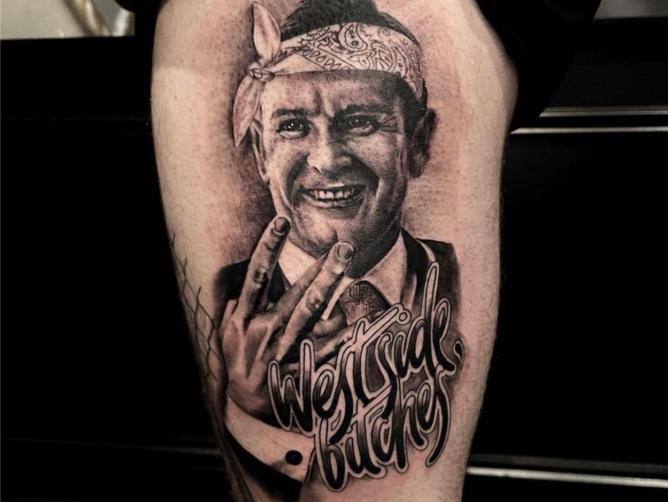 The tattoo featured Mr McGowan wearing a bandanna flanked by the words "Westside b**ches."
A recent poll had Mr McGowan with an overall approval rating of 88 per cent, which spiked at 91 per cent among the state's young women aged 18 to 39.
Missed The Bunch with Clairsy & Lisa? Catch up by clicking play below!