The rare activity that's brewing off the coast of WA's northwest has the Bureau of Meteorology's Andrew Burton keyed-up.
Not only is he one of the BoM's senior meteorologists, he specialises in severe weather, particularly tropical cyclones.
"If you find it fascinating you can imagine what tropical cyclone meteorologists are thinking," he told The Bunch on Friday.
Currently, off the northwest coast we have Tropical Cyclone Seroja but also a tropical low called 23U which is about to be named Tropical Cyclone Odette, and what they're doing is something pretty rare for WA.
"You see it happening on a smaller scale, but to see cyclones like this – close enough and definitely interacting and circling around each other – I haven't seen a case like this off the WA coast in 25 years," Mr Burton said.
This interaction is known as the Fujiwhara Effect.
It is expected to make landfall late Sunday or early Monday between Carnarvon and Jurien Bay, including Carnarvon, Denham, Kalbarri and Geraldton, and could bring dangerous weather conditions with it
Mr Burton says it could be a Category 2 cyclone by then.
"That probably doesn't mean too much to most people, the best way I can describe it is that it's looking like it's as bad as any winter front you've seen."
"These kinds of winds, where you can get them on the coast above 120km/h – that's a 1-in-5 or 1-in-10 years kind of a winter front."
Hit PLAY to listen in…
People on WA's coast should prepare for intense wind, rain & possible flash flooding over the weekend & Monday. The first impacts to WA are expected Sat night around Exmouth. Late Sun/Mon TC Seroja is expected to cross coast between Carnarvon & Jurien Bay https://t.co/XHYXuHrieC pic.twitter.com/noukmT1XpK

— Bureau of Meteorology, Western Australia (@BOM_WA) April 8, 2021
Warning issued for holidaymakers
Meanwhile, the Department of Fire and Emergency Services has issued a Blue Alert.
09:19 AM – Cyclone BLUE ALERT for Cyclone BLUE ALERT for Coral Bay to Lancelin in the Midwest-Gascoyne, Perth Metropolitan in the Midwest-Gascoyne, Perth Metropolitan: https://t.co/ZSEIQCTb4B

— DFES (@dfes_wa) April 9, 2021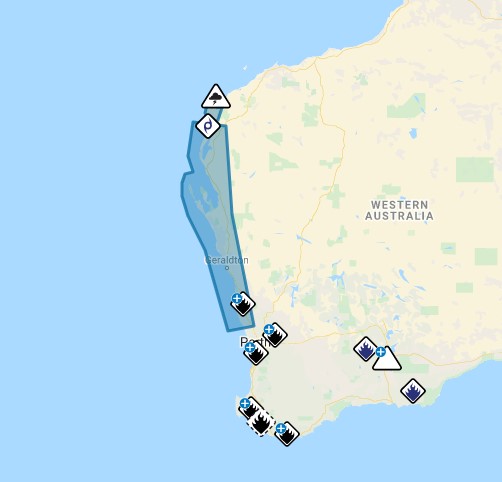 There is also concern for holidaymakers who may not have experienced a cyclone before.
"Recent rainfall and flooding has already battered the northern half of WA during the current cyclone season," Acting DFES commissioner Craig Waters said on Thursday.
"If you're in a tent or caravan, you are simply not protected against the damaging winds that may hit the region.
"Some roads in the area are still undergoing maintenance to repair damage from recent flooding events and Tropical Cyclone Seroja has the potential to cause further damage making roads unpassable for days, if not longer."
The DFES is urging travellers to reconsider their plans and stay up to date with the latest emergency information.
Missed The Bunch with Clairsy & Lisa? Catch up by clicking play below!