Guys, we have a date for Phase 3 of our WA roadmap for the easing of restrictions – and the changes are, in the Premier's words, 'significant'.
Mark McGowan made the announcement on Friday and, with it, a huge list of eased restrictions, including the reopening of cinemas, gatherings of up to 100 will be permitted and we won't have to order a meal when we ask our gorgeous barkeep for a sweet sweet beer.
"WA's success allows us to move ahead and take significant steps," McGowan said. "BUT we all must continue to act responsibly, that means good physical distancing where possible and good personal hygiene."
"Because if we have an uncontrolled outbreak, I don't want to have to place restrictions back on.
"We cannot afford to undo all our good work."
Taking effect on Saturday, June 6… here's what's happening:
Non-work indoor and outdoor gatherings of up to 100 people at any one time, per single undivided space, up to 300 people in total per venue (100/300 rule)
Food businesses and licensed premises may operate with seated service
Alcohol may be served without a meal at licensed premises (patrons must be seated)
Food courts can reopen with a seated service
Beauty therapy and personal care services to reopen
Saunas, bath houses, float centres, massage and wellness centres to reopen (100/300 rule)
Galleries, museums, theatres, auditoriums, cinemas and concert venues can reopen (during any performance, the patrons must be seated. (100/300 rule))
Rottnest Island to reopen to the WA general public
Perth Zoo to open with no patron limit for the whole venue (the 100/300 rule applies to indoor spaces and cafés/restaurants)
Wildlife and amusement parks can reopen (100/300 rule)
Arcades (including pool/snooker, ten pin bowling, Timezone), skate rinks and indoor play centres to reopen (100/300 rule)
Auction houses and real estate auctions can reopen
TAB and other gaming venues (other than the Casino which is being considered separately) are permitted to reopen
Full contact sport and training is now permitted
Playgrounds, skate parks and outdoor gym equipment are permitted to be used
Parents/guardians will be able to enter school grounds to drop off or pick up their children
Gyms, health clubs and indoor sports centres will be able to offer the normal range of activities, including the use of all gym equipment (gyms must be staffed at all times and undertake regular cleaning).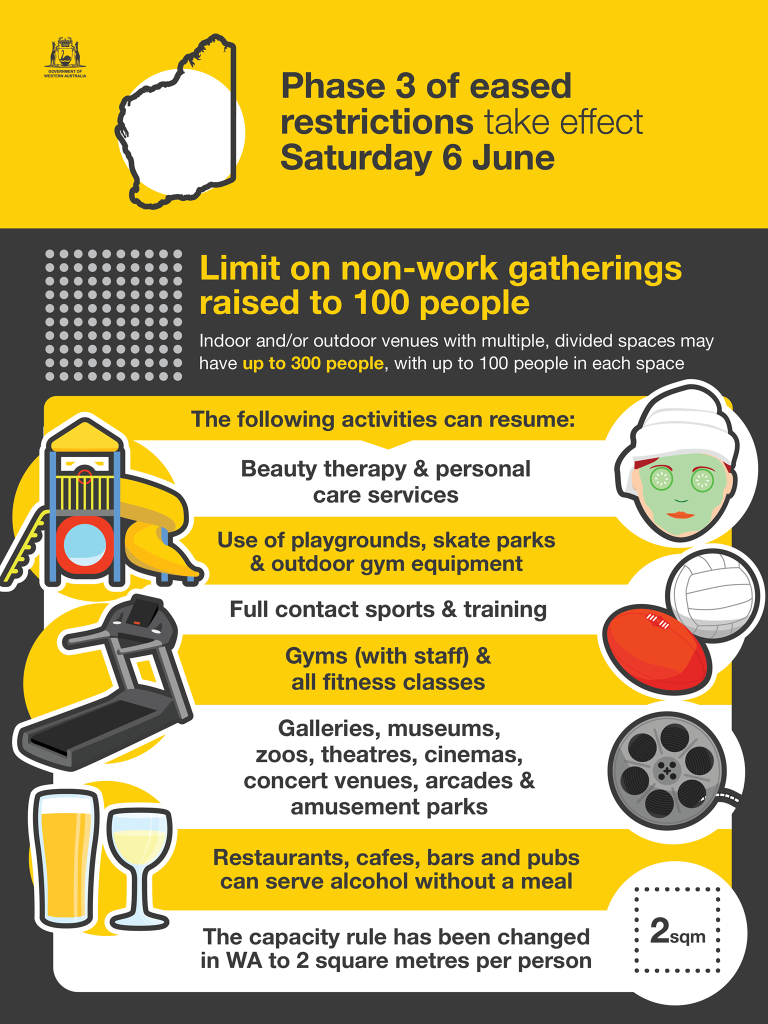 Social Distancing
As part of Phase 3, Western Australia will be the first State in the nation to remove the rule and instead implement a two square metre per person capacity rule for venues.
This will replace the four square metre rule, which is the current national position.
Cheers to that!
Missed Clairsy & Lisa? Catch up by clicking play below!