Australia woke up to the news that there was… no news on their Facebook feed this morning.
The shock move by the social media giant is in response to the government's proposed media bargaining laws to force tech companies to pay for news content.
Those affected included the ABC, Herald Sun, WAtoday, as well as the Bureau of Meteorology and several national health departments.
Worryingly, WA's authority in fire and emergency information, DFES, had also been swept up in the ban.
Premier Mark McGowan's Facebook page was not affected but his opposition, Liberal Leader Zak Kirkup's page is still compromised – right in the middle of a campaign period.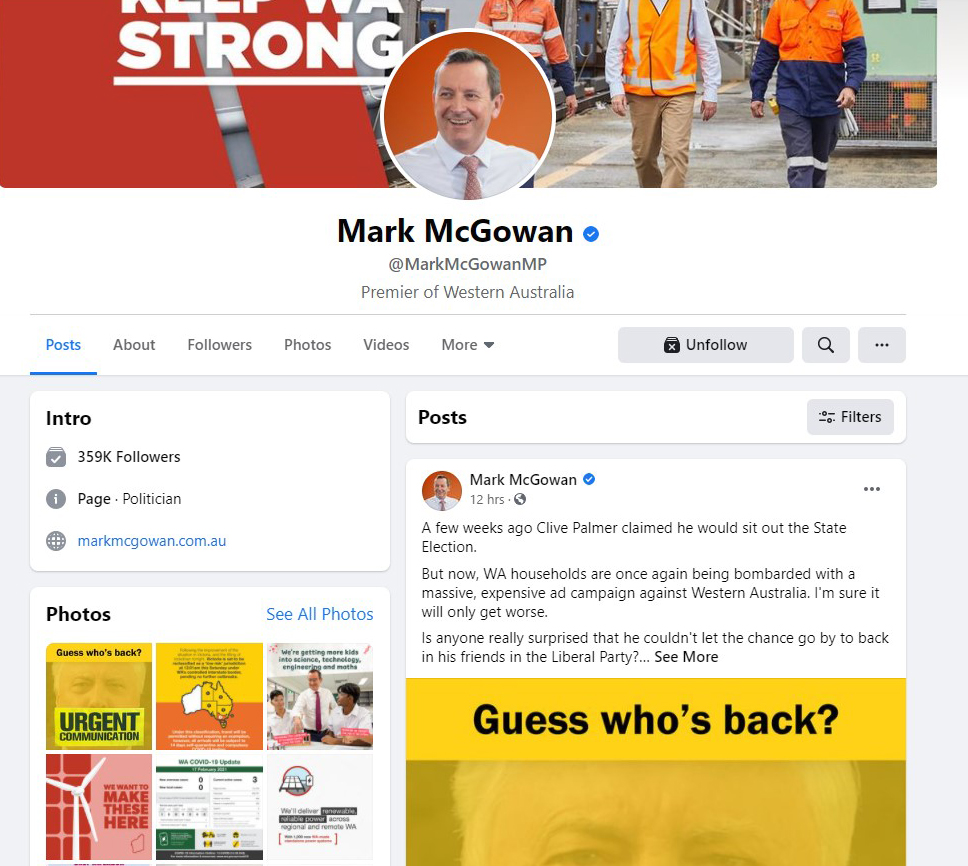 Facebook says it didn't intend its ban on sharing news content to impact government pages and it will restore them.
"The actions we are taking are focused on restricting Australian publishers and people in Australia from sharing or viewing Australian and international news content," it said in a statement.
"As the law does not provide clear guidance on the definition of news content, we have taken a broad definition in order to respect the law as drafted. However, we will reverse any pages that are inadvertently impacted."
Queensland Treasurer Cameron Dick condemned Facebook's move.
"This is nuts. Queenslanders need access to accurate and trustworthy sources for health information," he wrote on Twitter.
"Facebook is blocking access to the @qldhealthnews in the middle of a pandemic.
"This needs to be fixed."
A Queensland government spokesman told AAP that Facebook is trying to get the page back online.
South Australian Health Minister Stephen Wade also took to Twitter to lash the social media company.
"To restrict the dissemination of important public health information during a global pandemic is absolutely unacceptable. I urge @Facebook to immediately reverse this decision," he wrote.
SA Health said it had asked Facebook to rectify the situation, while comment has been sought from the West Australian government.
More than 600,000 people follow the Queensland Health page and more than 307,000 follow the SA Health page.
Almost 52,000 people follow the ACT Health Facebook page while the WA Fire and Emergency Services page is followed by more than 301,000 people.
The Bureau of Meteorology page provides weather updates and severe weather and flood alerts to more than 909,000 users.
The forecaster urged people to check its website, app and Twitter accounts while its Facebook page is down.
Facebook posted a brief message to users on its platform, explaining the change.
"In response to Australian government legislation, Facebook restricts the posting of news links and all posts from news pages in Australia," the note read.
"Globally, the posting and sharing of news links from Australian publications is restricted."
Human Rights Watch warned that Facebook's move was dangerous.
"It's not only news sites, but health department pages that share essential COVID-19 updates, emergency services and small Indigenous community pages are affected," spokeswoman Sophie McNeill said in a statement.
"This is an alarming and dangerous turn of events. Cutting off access to vital information to an entire country in the dead of the night is unconscionable.
"(Facebook co-founder and chairman) Mark Zuckerberg has publicly stated that he doesn't think it's right for a private company to censor the news and Human Rights Watch agrees."
Facebook says it will revive emergency services, health and public information pages that were inadvertently blocked as part of its Australian news ban.
Might be time to to revive the good ol' MySpace account.
Missed The Bunch with Clairsy & Lisa? Catch up by clicking play below!