Aussie Formula One champ Daniel Ricciardo has slammed TV broadcasters who kept showing Romain Grosjean's fiery crash at the Bahrain Grand Prix on Sunday as 'disgusting'.
Grosjean miraculously escaped a fiery inferno after his car burst into flames at 225km/h on the opening lap of the race.
Grosjean, 34, scrambled to get out of his burning car for almost half a minute before eventually leaping away and into the arms of Formula One doctor, Ian Roberts, one of the first men on the scene.
On the opening lap, Grosjean moved to his right at the third corner, before hitting the front-left wheel of Daniil Kvyat's AlphaTauri, and penetrating the steel barrier at 140mph. The force of the impact, which registered at 53G, split his machine in two.
Grosjean's cockpit instantly burst into flames, and the sport held its breath as television cameras cut hastily away from the extraordinary accident and the race was immediately stopped.
After a number of minutes, Grosjean's Haas team reported that their driver was out of the cockpit.
He was then pictured sitting in the medical car before limping towards an ambulance, aided by Roberts and medical car driver Alan Van Der Merwe. He had leapt out of his burning machine with his racing boot missing from his left foot.
Grosjean was airlifted to the BDF Military Hospital, 10 miles north of the Bahrain International Circuit, with burns to his hands and ankles and suspected broken ribs.
"It is a miracle he is alive," said 1996 world champion Damon Hill, whose Williams teammate Ayrton Senna perished at the San Marino Grand Prix 26 years ago.
Speaking after the crash, Perth star Ricciardo condemned broadcasters for their 'disgusting' decision not to cut away from the fiery scenes.
"I want to express my disgust and disappointment with Formula 1," Ricciardo told Dutch broadcaster Ziggo.
"The way the incident of Grosjean was broadcast over and over, the replays over and over, it was completely disrespectful and inconsiderate for his family, for all of our families watching.
"We're going to go race again in an hour and every time we look on the TV it's a ball of fire and his car's cut in half.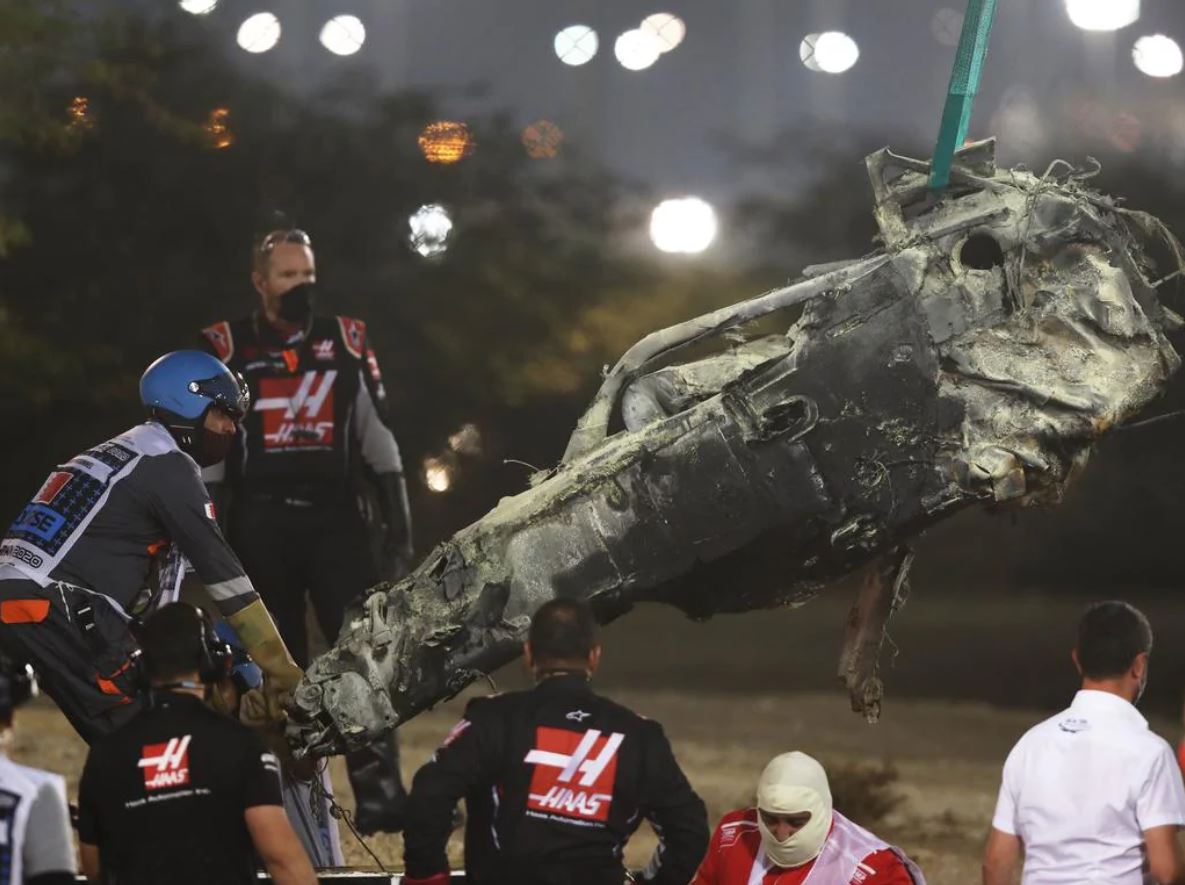 Lewis Hamilton, who was leading the race at the time of the incident, was seen shaking his head as he watched a replay of the jaw-dropping accident from inside the Mercedes garage as the grand prix was suspended.
Seven-time world champion Hamilton tweeted: "I'm so grateful Romain is safe.
"Wow. The risk we take is no joke, for those of you out there that forget that we put our life on the line for this sport and for what we love to do.
"Thankful to the FIA for the massive strides we've taken for Romain to walk away from that safely."
The best video we've seen today?

THIS 🙂 👊#BahrainGP 🇧🇭 #F1 @RGrosjean pic.twitter.com/TbGblznMBv

— Formula 1 (@F1) November 29, 2020
There will now be question marks as to how Grosjean's car managed to penetrate a steel barrier.
But the halo device – the driver-cockpit protection system controversially introduced in 2018 – appears to have played a major role in the Frenchman's remarkable escape.
The race started again following a 90-minute stoppage, but there was further drama after just eight corners when Lance Stroll was flipped upside down.
Kvyat attempted to pass the Canadian driver at the right-handed turn eight, but sent him on to the roof of his Racing Point.
Stroll clambered out of his cockpit, reporting that he was "OK" over the radio, and the safety car was deployed.
Kvyat was hit with a 10-second penalty, while Stroll was given the all-clear following a visit to the medical centre.
with AAP
Missed Clairsy & Lisa? Catch up by clicking play below!