It was the moment that sent AFL fans into an absolute frenzy.
Up by three over Brisbane with two minutes to play, the goal umpire gave a 'soft' call of a goal to Richmond's Tom Lynch's angled set shot before it was sent upstairs for review.
Controversy in the final stages as Tom Lynch's kick gets deemed a behind 👀 Huge drama as goal review overrules late Lynch shot. 🎥 via: Ch 7 #AFLFinals #afl 🏆 pic.twitter.com/oICBBor5Tc

— The Real AFL (@TheRealAFL20) September 1, 2022
The replay appeared to show the Tiger's snap sailed directly over the post to be awarded a behind.
Instead of being ahead by nine, the call kept the match alive before the Lions advanced to the other end of the Gabba for Joe Daniher to steal it with 64 seconds left.
But let's rewind.
As the shot went up for review, the camera caught this reaction from both Lynch and his opponent, Brisbane's Harris Andrews: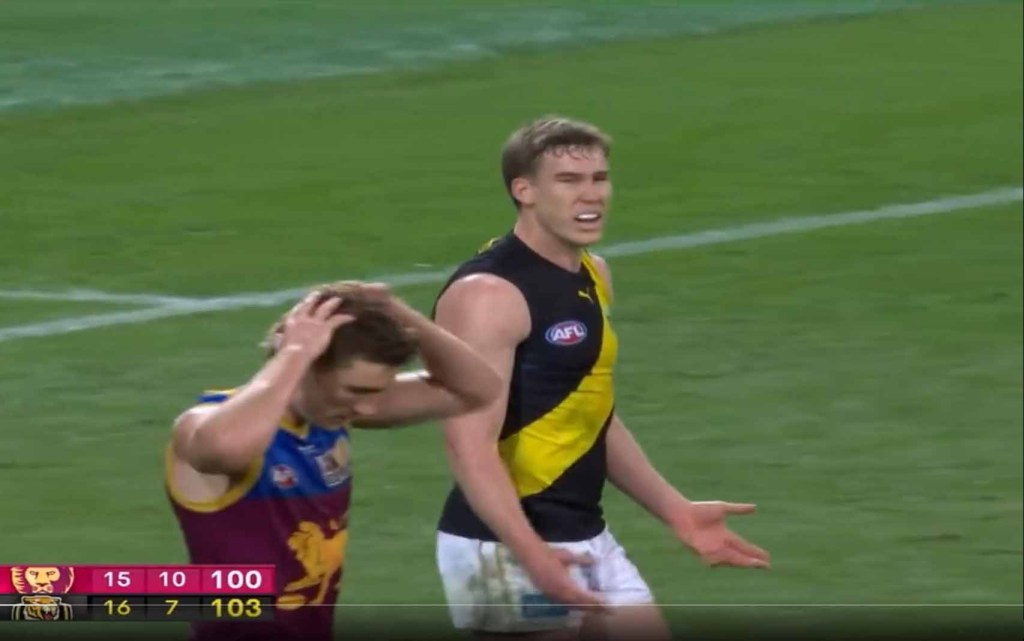 Word on the street is that it was actually this very reaction from the player that sealed the review decision and, in turn, decided the match.
It was a theory that our Ryan Daniels supported.
"When you look at Tom Lynch's reaction, he clearly thinks he's missed and his opponent Harris Andrews can't believe he's missed… l think they may have seen that, and maybe that's what swung the decision to overturn the goal," he told Clairsy & Lisa on Friday.
"At the end of the day, it decided the final."
Hit PLAY to listen in…