We're just gonna say it, we're screaming over some of the reviews on the newest AFL-based video game for PlayStation 5 from BigAnt Studios.
The cool thing about it is that it features fully licensed 2023 AFL Premiership and AFL Women's competitions and more than 30 stadiums.
Including our own Elliot Yeo:
But, look, it's had some teething problems.
Such as…
AFL 23 GOTY 🫠 #afl23 pic.twitter.com/cWsWHMr9yz

— dan.s ⚫⚪ (@dan_stef) May 4, 2023
Bevo's looking a little different here… #PS5Share, #AFL23 pic.twitter.com/rtCxsbuzHN

— Brad Sultana (@BradSultana) May 4, 2023
#afl23 has copped a lot after its release yesterday…I downloaded it before all the feedback but haven't played it yet. If nothing else it's a comedy hit, this leading the way with Adam Simpson becoming a goal umpire 😂 pic.twitter.com/W8P7bbi9iW

— Ben (@benlee1979) May 4, 2023
And of course, Elliot Yeo getting stuck kicking a ball into a bench in what appears to be the middle of the field…
— Tristan Bakes (@BakesTristan) May 3, 2023
Here it is again…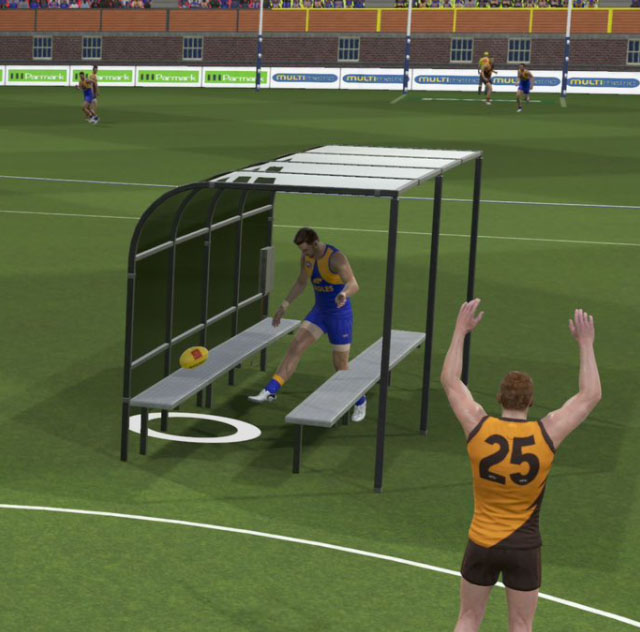 Amazing.
We spoke to Elliot Yeo about whether he's played 'Elliot Yeo' in the game… and how he feels about his avatar kicking that ball into the bench…
Followthe podcast on