A popular Facebook group called Bluey Mums has raised the alarm about a couple of fake Bluey episodes doing the rounds on YouTube that may be disturbing to little ones.
"Honestly, I just turned it off ASAP so I don't know what happens, but Bluey and Bingo were crying in the first scene but it's nothing like (Bluey)," wrote one reader. "It's on Kid's YouTube, be careful."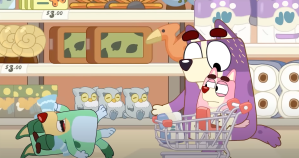 The show's popularity continues to skyrocket, with it ranked in the top 10 streaming show in the US and has racked up over 20 billion minutes streamed on Disney+.
According to the reports, one episode has a different coloured Bluey and Bingo trying to fake a sickie to divert attention away from their bad grades and in the other ep Bingo eats… faeces.
"Oh my god, I just saw yesterday one where Bingo was eating 'sh*t' and it was the poop emoji? I thought it was just me. It was actually suggested to me," wrote another reader.
As a reminder for everyone, the official Bluey eps are on the Bluey website and Disney+ and NOT YouTube or YouTube Kids.